Infosys posts 33% surge in third-quarter earnings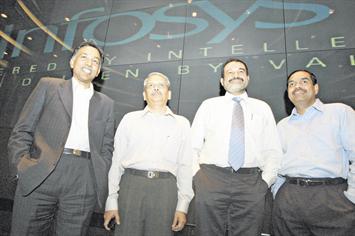 Infosys Technologies, India's second-largest IT services company, beat market expectations with a one-third jump in quarterly profit but trimmed its annual forecast as clients squeeze contracts and prices in a global slump.

Shares in the firm rose as much as 7.2 per cent yesterday as the market took heart from the firm's higher business volumes in the quarter and a flight to safety in wake of accounting fraud at rival Satyam Computer Services

"Infosys is attracting default buying. There is switching over from other large-cap and mid-cap IT stocks, as the company is considered good from a corporate governance and growth points of view," said Deepak Jasani, head of retail research, HDFC Securities.

Infosys, valued at $14.6 billion (Dh53.6bn) at yesterday's closing price, said it was not seeing any fallout on its business from the scandal at fourth-ranked Satyam, which has cast a shadow on the entire sector.

"Customers clearly understand it's a one-off event. We are not actively pursuing either employees or customers of Satyam because we believe we should not accentuate their problem," Infosys Chief Financial Officer V Balakrishnan said.

Infosys added 30 new clients in the December quarter. Shares in Infosys closed up 6.4 per cent at Rs 1,230.2, their highest close in more than one month in a broader market down 0.4 per cent.

Infosys, which develops applications and designs supply chains for clients such as Philips Electronics and Goldman Sachs, cut its earnings forecast for a second quarter running in the backdrop of a deepening global downturn.

Analysts have also said global firms, scared by the revelations of fraud at Satyam, might delay giving large contracts as they step up due diligence, adding to the pressure on India's $52bn IT and back-office outsourcing sector.
Follow Emirates 24|7 on Google News.