iPhones and PCs take fitness to heart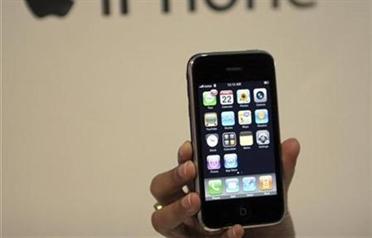 For some of us, the iPhone will always be a slightly scary emblem of the brave new world: an impossibly sleek device that allows you to make a call, hear a song, learn a language and find your way home.
Now you - and your personal trainer - can also use it to listen to your heart, as new technology turns the iPhone into a heart monitor and fitness tracking system. "We wanted to make the fitness tracking experience cool, fun, simple and custom," said Michael C. Williams, founder and CEO of iTMP Technology Inc, which developed the monitoring module. "We did it by leveraging the iPhone's technology."
One way of monitoring the intensity of physical activity is heart rate. For moderate-intensity activity, target heart rate should be 50 to 70 per cent of a person's maximum heart rate, according to the Centers for Disease Control (CDC). SM Heart Link, a so-called 'wireless bridge', collects data from sensors - such as heart rate chest straps and cycling sensors on bikes -and sends it to the iPhone for display and tracking.
"There are dozens of fitness apps on the iPhone but none of them, until now, employ heart rate monitors or other sensors." Williams said from his company's headquarters in Santa Barbara, California. He added that the iPhone can now double as a heart rate monitor and bike computer, tracking and storing workouts and even sending the data to medical assessment websites. "In a matter of seconds you can calibrate your fitness," Williams said. "Your calorie expenditures are broken out between fat and carbs and they are based on your metabolic data, not population-based tables."
This, of course, is not cheap. The applications are free, but the module costs $155. There is also the price of the assessments, the sensors, and the iPhone itself. At the other end of the fitness spectrum, the no-tech alternative lies like an old typewriter. As explicated on the CDC website: to find your heart rate, stop exercising and take your pulse by placing your fingertips over your wrists to feel the radial artery and count the beats.
But between the future and the past falls the middle way. At the American Heart Association's (AHA) online cardiovascular center, Heart 360 (www.heart360.org), a user can enter blood pressure, cholesterol and glucose numbers, log physical activities, record weight, and keep a diary of medications.
"You get a comprehensive picture," said Dr. Daniel Jones, past president of the AHA. The password-protected entries are compared and updated to help users meet fitness goals, he added. "Heart rate is much more valuable when you integrate it with other data," said Jones, who is dean of the School of Medicine at the University of Mississippi.
Jones firmly believes in using technology to help people keep track of their health. "It is a step forward, like online banking," he said. "In itself it doesn't stop problems but it can facilitate people paying more attention to their health," Jones said, adding that Heart 360 is free to consumers who log on to the website.
Follow Emirates 24|7 on Google News.