It's still bloom time online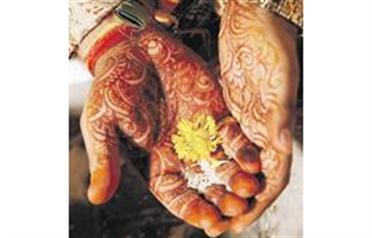 As recessionary clouds hover over India's booming wedding industry, estimated by insiders to be worth more than Dh113bn, new trends are emerging in the online matrimony market.

While demands for grooms based outside of India – once considered the most-desired prospects on the marriage market – have declined, the number of men looking for working women as potential brides has risen, insiders say.

"We have noticed a shift in preferences," says Gourav Rakshit, the Business Head at matrimony site Shaadi.com who adds that 30 per cent of the portal's membership base are NRI's or non-resident Indians. While a specific number does not exist with regards to the demand for UAE-based NRI's, the preferences of Malayalis (people originating from Kerala in South India who form the majority of Indian expatriates in the Middle East) for NRI spouses based in the UAE, US and UK, has shown a drastic fall from 43 per cent to around 35 per cent from last year, says Rakshit.

"With promising careers, independence and the need to spend more time with one's family, many eligible Indian women are not looking to move abroad after marriage," he says. "Also, despite the slowdown, jobs in India are still secure which is one of the reasons why Indian grooms are in higher demand than NRI grooms.

"The number of grooms looking for working women professionals as their spouses has also shot up by almost 15 per cent. After all, an additional source of income is always welcomed, especially during such times."

According to Murugavel Janakiraman, the founder and CEO of Consim Info, which owns a number of websites including BharatMatrimony.com, there's still a steady increase in profiles over the last couple of months but "the demand for NRI grooms from India is less than what it used to be".

Janakiraman has not quantified his statement but points out that 13 per cent of his website's 15 million registered members are Gulf based. The global financial crisis, he adds, has not had any impact on the number of people seeking alliances on the web.

"There's still a substantial growth. In fact, we've recently launched a number of initiatives and plan to open offices in key South Asian and Middle East markets to cater to the Indian diaspora."

The current size of the organised online matrimonial business stands at Rs1.4bn (Dh106m) and is still emerging as one of the leading Internet businesses, says Rakshit.

"We believe that matrimony is a recession-proof business. Though people may postpone their wedding celebrations or choose to keep them low-key, searches are still in progress," he says.

"Search on Shaadi.com for professionals from volatile industries such as IT and telecom, finance and investment banking has on the contrary increased by 10 per cent, five per cent and eight per cent respectively, which proves that it hasn't impacted the preferences of our members."

According to Nizaar Gherfal, the Marketing Director of Cronomagic Canada, which runs Qiran.com, a matrimonial site targeted specifically at Muslims, the downturn has had "very little effect" on the industry.

"As a matter of fact, we saw an increase in new profiles and sales in the month of December, January and continuing into February," he says. "Marriage is an essential part of the Muslim culture and is strongly advocated." The appeal of finding a husband or wife online therefore is only set to grow, according to the officials.

"People accept the internet as a trusted medium for finding their life partner. It has made life convenient to millions of people in terms of privacy, reach and accessibility," says Janakiraman.

Rakshit agrees. "The scenario for online matrimony has changed dramatically in the last 10 years. While initially there was scepticism towards the service, over the years people have realised that the medium works beautifully for them," he says. "The internet takes away the geographical and spatial boundaries and limitations that traditional matchmaking suffers from. Considering the kind of lifestyles people are leading now, finding the right life partner can be a tough challenge and online marriages are proving to be a boon."

Gherfal says cultural factors have also contributed to its success. "Arranged marriages are very common in the Arab world since the traditions of the Arab society forbids women to be involved in relationships without an official visit from the groom and or his family with marriage intentions. Once the families have met and agreed on important issues the bride and the groom are allowed to communicate and meet in public places. As the people in the Middle East get more and more tech savvy, demand grows."

Middle Eastern members account for up to 70 per cent of Qiran.com's almost two million members, with the UAE being the third biggest market after Saudi Arabia and Egypt. "The success rate in the region is much higher than other geographical areas," adds Gherfal.

JuxtConsult, a New Delhi-based online research and advisory firm puts matrimonial search as one of the Top-10 online activities among Internet users in India.

"We are seeing close to 7,000 to 8,000 new profiles being registered everyday, and close to 40 success stories each day," says Shaadi.com's Rakshit.

"During periods of economic slowdown and gloom, people look for emotional support in a life partner."
Follow Emirates 24|7 on Google News.