LCD prices set to recover soon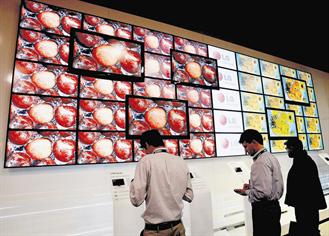 The liquid crystal display (LCD) industry has hit a bottom and TV panel prices are expected to recover in coming months on solid demand for small-sized flat screen TVs, the head of LG Display said.

Chief Executive Kwon Young-soo also said high-end mobile display would be the new focus of the world's second-biggest LCD manufacturer, which now mostly produces TVs, computer monitors and notebook panels.

South Korea-based LG Display reported on Friday its worst-ever quarterly loss, hit by $400 million (Dh1.46 billion) US price-fixing fines and falling screen prices.

LCD makers are likely to suffer further losses in the first half of 2009 as consumer demand for electronics declines rapidly on the deepening global downturn, analysts said.

But the chief executive said prices were expected to recover soon.

"The good news is that we've reached a bottom," he told reporters at a news conference late on Friday for release yesterday.

"TV panel prices will likely stop the downward trend and recover," Kwon said, adding demand is quite healthy for low-priced, small-size LCD television sets that replace cathode ray tube models.

"Consumers are finding a flat-screen TV is worth the money if there were ever to spend on electronics goods, rather than, say, home appliances."
Follow Emirates 24|7 on Google News.