LG to concentrate on GSM phone business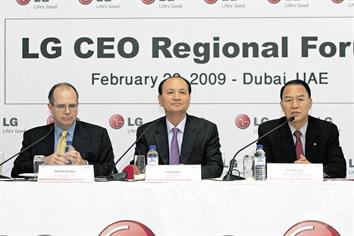 LG Electronics, the world's third-largest mobile phone manufacturer, plans to concentrate on the GSM phone business after becoming the world's largest maker of CDMA handsets, according to its global chief executive.

GSM, or Global System for Mobile communications, and CDMA, or Code Division Multiple Access, are competing mobile communications industry standards. LG, which saw record sales of 100.7 million handsets last year, will focus on its mobile communications division, Yong Nam said yesterday. He did not say how much they expect to sell this year but noted the division has the "biggest potential to grow".

"According to the latest figures, LG has now jumped to third place in the mobile phone industry making it the world's third-largest handset manufacturer," Yong told a press conference in Dubai. "My vision for LG is to rank among the top three electronics companies just like it has achieved in the mobile division and to maintain profitability under certain circumstances."

Yong said LG has a bigger room for growth as it has been a late entrant in the industry. "I have strong confidence we can gain market share, especially in the Middle East where we are not yet very strong," he said.

"Although there is contraction in the mobile market, we know we can improve our position," he added, noting that maintaining the company's 2008 performance would be a challenge.

Ki Wan Kim, LGE's Executive Vice-President and CEO, Middle East and Africa, said: "I'm comfortable with our organisation. Our aim is to catch up with the mobile phone. We are currently behind our competitors so we want to transform this crisis into an opportunity."

To gain a bigger market share, Nam said LG has been busy "establishing a solid distribution channel" and is ready to deploy an "excellent line up" in all its product segments. "Our new GSM products are developed with the trendy customers in mind. GSM is a strategic business for us in the region and a solid ground to base our growth," he said.

LG is also eyeing at beefing up its solar power, commercial air-conditioners and business-to-business solutions portfolio, believing they will become increasingly profitable once the economy is back on track.

Nam said they will launch solar power products in 2010, as the availability of sunshine here as well the continuing issue of energy security and diversification offers "great opportunity".

The company in December announced the revamp of its corporate structure. It resulted in the spin off of four

business units – Digital Appliance, Digital Display,

Digital Media, and Mobile Communications – into a new structure that includes Mobile Communications and four units – home entertainment, home appliance, air-conditioning and business solutions.


R&D Budget To Increase By 15 Per Cent

LG Electronics, the flagship company of LG Group, will increase its R&D and branding budgets for this year at a time when other electronics firms are cutting down marketing spending, the company's global chief said.

The South Korean giant plans to increase its R&D spend by 15 per cent from $1.3 billion (Dh4.7bn) in 2008 to $1.5bn in 2009 and plans to increase its branding expenditures by a "significant" amount, Yong Nam, LG Electronics Global CEO, told a press conference in Dubai yesterday.

This statement came after the world's third largest handset maker recently announced it would cut costs by 30 per cent this year. Nam said there would be no immediate job cuts. "No job cuts is expected in Korea. In Korea, we decided to pull 20 per cent of the people to growth areas such as solar and healthcare," he said. "We have a solid programme of reducing our costs by $2.2bn to $2.5bn." Nam said the company is undertaking an "optimisation" plan, results of which may point to a close down of a number of plants. "For the global optimisation [plan] we may have a reduction in many factories. We are still at planning stage and are assessing," he said.

He said the company's sales with subsidiaries turnover went up 20.8 per cent last year touching $46bn. The Middle East and Africa accounted for $3.8bn sales or about eight per cent of the total revenues. "The region comprises only five per cent of the company's portfolio but sales have been eight to nine per cent and plan to grow it by 10 per cent this year," Nam said.

Despite the global slump, LG is aiming to rake a double-digit growth in the region, said Ki Wan Kim.
Follow Emirates 24|7 on Google News.