Mideast and Africa ring the changes for telecom firms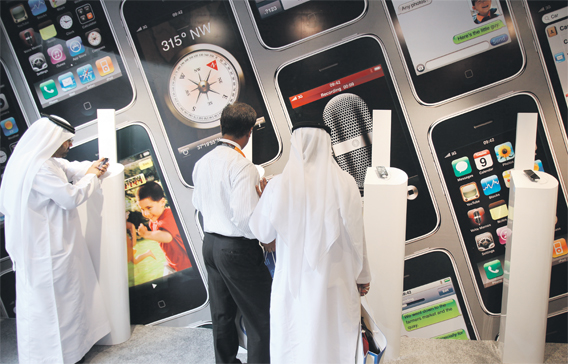 Telecom companies in the Middle East and Africa would no longer have an easy growth and will need to optimise their cost structures for their home markets and their international operations, analysts at PRTM, a privately owned global consulting company, said in a new report.
While two of the multinationals, now based in this region, will retreat or sell out completely, at least one will seek to tie-up with a global player, PRTM analysts said, adding such developments would change the landscape.
"The largest Middle Eastern and African groups, in this environment, have a choice to make. They can continue with their expansion strategies to build a truly multinational or global presence – or they can join forces with the largest global players. These decisions will have to be made soon; the big decisions are very likely to be made in 2010," analysts said.
Continued innovation in network sharing and outsourcing should be an area of focus for international operations of companies in the Middle East, the report said.
"Network sharing and managed services offer the biggest opportunity to optimise capital expenditure and costs and to boost margins. But most operators have yet to embrace network sharing primarily because they still worry about control, governance and trust – the same issues around maturity of processes, systems and organisation that hinder internal efficiency. Yet the economics of network sharing and outsourcing are overwhelming and acceleration of such initiatives is likely in 2010."
Target Africa
Africa is where the Middle East companies can afford to grow in their traditional sphere of services, analysts said. "Leaders in the Middle East and Africa, despite the realities for the current mobile market, continue to represent the world's last major growth play for traditional voice and text services. The evidence is apparent in Bharti and Reliance's interest in Africa's MTN, in Essar's buyout of the Warid properties in Uganda, in Vodafone's steady increase in control at Vodacom, in Vivendi and others' reported interest in Zain, and in Orange's desire to boost its stake in Egypt's Mobinil, among many other moves in the making."
Changes required
Companies in the Middle East need a substantially lower-cost operating model – for home markets and international operations, analysts said. "There is still plenty of work to do to optimise cost structures, establish mature processes and systems, and build a cadre of experienced managers. The next 10 years will be less about bets on growth and more about an operator's ability to optimise and prove out core operations in order to deliver steady profits and reliable cash flow in tough markets."
The operators that can deliver these results with confidence – across a multinational footprint – are those that will be able to pay the control premiums required to make acquisitions and extract value from their new subsidiaries, analysts said.
"This is why the Indian operators have been so active and so many Western operators have largely been absent. Africa is a solid bet for the players that already have the low-cost operational model needed to successfully compete in the region."
Mobile broadband
3G and associated data services offer big opportunities in the regions' more affluent markets – mostly the Gulf oil states, the PRTM report said.
"Rolling out 3G networks and selling data connections will be straightforward, but there will be challenges in doing so profitably, and this goes for almost all operators around the world. The widespread adoption of 3G and data globally, will further raise the standards for performance and profitability," the analysts said.
Brand, customer intimacy, loyalty, and service will all become important differentiators as the markets in the Middle East and Africa mature, the report said.
"Operators will need to understand the drivers of customer loyalty and manage customer segments based on these drivers. This means greater focus on direct personalised marketing and customer service, systems integration, and multi-channel capability. Middle Eastern operators have an enormous opportunity in this area because their policies and procedures are not geared towards customer acquisition like those of Western operators, and the competitive dynamics in their markets are not as aggressive," the analysts said.
These operators have the opportunity to establish a better balance between acquisition and retention earlier in the market cycle – and to set the basis for a more rational industry approach, the analysts emphasised.
"Middle Eastern operators are at a crossroads. In their home markets, they are coming to the end of the era of strong growth in voice and text services; their future will be about growth in broadband and data services and about delivering the best customer experience. By contrast, success in Africa will mean aggressive cost management and network sharing and achieving profitable growth with tariffs under pressure," the report said.
"In both regions, there will be a sharp shift from an entrepreneurial growth environment to one based on operational excellence; this will place the burden squarely on business leaders who can produce near-term operational performance and results, quickly establish more mature processes and systems," PRTM analysts said in the report.
India: the role model
India has become a powerhouse in mobile – the role model for any mobile phone operator looking to provide low-cost services. India boasts the world's lowest call rates – just one cent per minute – yet its operators have scored some of the highest profit margins and fastest growth rates in the world.
However, 2009 posed big challenges for Indian operators. Slowing market growth collided with a crowded field of players, sparking a vicious price war. For the first time, market revenues dropped quarter-over-quarter and price elasticity fell below unity. The losses in revenues from tariff reductions exceeded the revenue gains from higher usage and new subscriber uptake. Indian operators' share prices took a hammering; by mid-January 2010, market leader Bharti was down 35 per cent against its 52-week high, while Reliance shares fell 51 per cent and Idea was down by 36 per cent, compared to the preceding year's high.
These recent drops in revenue – and in share price – will likely cause lasting grief for some of India's mobile operators.
Keep up with the latest business news from the region with the Emirates Business 24|7 daily newsletter. To subscribe to the newsletter, please click here.
Follow Emirates 24|7 on Google News.