Mobile payment solutions firms eye Middle East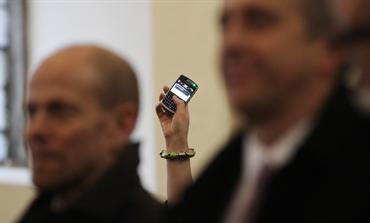 Mobile payment solution companies are engaged in talks with the Middle East telecom operators to target the large immigrant population.

Many of them are talking to two to four operators in the region to meet the growing demand for mobile payment solutions. The companies see large-scale use of mobile phones for banking in Middle East and Africa. While some of them are finalising pilot projects, others are set for a wholesale implementation of their mobile payment solutions.

Gemalto, one of the largest in the mobile payments solutions segment, is already working with du and etisalat. Pascal Oromi, Vice- President for mobile financial services at Gemalto, confirmed they are also entering a tender for du, which is outside NFC (near field communication) transactions.

"There are already two to three deployments being made in the region – mainly in Pakistan and Iran. This year, we are targeting Dubai and already working closely in Egypt. In total, we are targeting five deployments in 2010 in the Middle East," Oromi said. "The immigrant population from India and Pakistan in the Middle East is the target audience. The region is not unbanked like Africa, but [migrant workers] require to send money back home. Mobile payment solutions are largely required for transferring money and also, many a time, making big transactions in the Middle East."

In Africa, Gemalto works actively in Nigeria and Uganda among others. Oromi was of the opinion that the UAE operators have a clear view of their requirements. "In terms of challenges in the region, it's also about being clear about banks, regulators and operators. There are a lot of solutions available in the market, making it fragmented. India, Africa and Latin America are also potential markets for Gemalto. As we work with different operators in these countries, interoperability is essential."

Currently, one third of Gemalto's revenue comes from the Middle East which, according to Oromi, will increase in 2010.

Close competitor Fundamo has been talking to operators in the region for a long time and also failed in tenders made previously in the UAE. Richard Bailey, Product Manager at Fundamo, is, however, positive. He said: "Bahrain is an active market but in Dubai, we didn't have much of success. The offering made was complicated at that time as the market was strongly led by banks and the solution did not suit them."

The company has not given up and continues to see money remittances as big business. "Mobile money is a big opportunity and provides a ready access to migrants. Many of them still don't have access to traditional banking services. Banks also have opportunities to offer services to the unbanked. Until now, we have focused on Africa, the Middle East, Pakistan, Indian Subcontinent, Indonesia, Malaysia and Latin and South America," said Bailey.

Fundamo is currently talking to two telecom operators in the Middle East. "In Africa, we have worked closely with MTN, and also Yemen, Iran, Afghanistan and Syria. Currently, the growth is less than 10 per cent from the Middle East for Fundamo, and we expect it to grow up to 20 per cent in 2010. We are working with 40 operators in the MEA region."

Even Bailey has seen an appetite for such kind of applications in the Middle East among telecom operators. "Operators are willing to take the risk, expand service offerings by extending beyond voice and data. Value- added services are in the limelight and therefore gained relevance."

With mobile payment solution companies tapping the business potential in the region, smaller players in the mobile wallet solution segment are also joining the bandwagon. "In the Middle East, with the regulator getting tough on the immigrant population to create bank accounts, it has invariably increased business potential for mBlox. Our top-up systems doesn't focus on mobile money, but there are vouchers, which can be bought from banks, and retail counters. It's not restricted to airtime on prepaid phones but also transferring real time money," Andrew Bud, Executive Chairman at Sweden based mBlox, said.

He also revealed that the company is currently talking to five operators in the Middle East. "The talks are focused on top-up systems and are pursuing opportunities globally. The high mobile penetration and also lack of banking infrastructure in some areas make it a top area for mBlox."

Bud also stressed on the fact that security was not an issue on these systems. "Customers are already using credit cards or bank cards," he said.

Mobile payments work on similar lines with either a barcode or an NFC phone or any established payment technology. The technology can be used to pay salaries using the 'mollet accounts' of mBlox. "It does not matter who services the bank and customers should not worry about security as even today's banks cannot provide 100 per cent security," he said.

The company plans to operate from Mumbai in India, covering the Middle East. It currently has its development centre in Kolkata with six offices across India and Africa.

Mobile payment technology has attracted money exchange centres as well. Khalid Fellahi, Senior Vice- President, Mobile Transaction Services of Western Union, said: "We are present in more than 200 countries, and a large amount of our business comes from remittances. Consumers are interested in mobile wallet solutions, wanting to transact differently. Our space in the value chain is to shoot money to these countries. As a company, we have also been building our connections with various mobile wallet solutions."

Although Western Union has yet to make any announcement on its mobile wallet plans in the Middle East, Fellahi said, the technology has been a success in Kenya and Philippines.
Keep up with the latest business news from the region with the Emirates Business 24|7 daily newsletter. To subscribe to the newsletter, please click here.
Follow Emirates 24|7 on Google News.