Mobile phone industry bracing for a downturn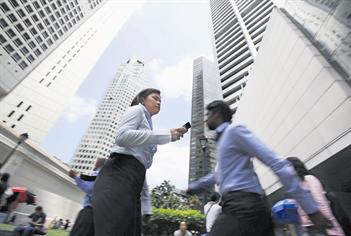 The mobile phone industry recently reached the milestone of its four billionth connection worldwide, but the cold winds of economic crisis will chill celebrations at the sector's biggest annual gathering this week.

The majority of the planet is now texting, calling or surfing on mobile handsets and the potential for growth in developing countries is undiminished – 2.7 billion are still without a connection. Yet despite this and the relatively recession-proof business of providing telephone connections, the industry as a whole is bracing for a downturn and anticipating a fall in investment.

As well as the launch of new products and industry initiatives, the crisis is set to dominate the four-day Mobile World Congress, the world's biggest industry event, which kicks off on Monday in Barcelona.

"For a long time people believed telecoms would be spared, but as it is a global crisis, everyone is going to be affected," said Thomas Husson, an analyst for research group Forrester.

The network operators are better protected than others because consumers are unlikely to drastically cut back on making calls or sending text messages.

"The telecoms sector compared with others such as the automobile industry or finance, is nevertheless better protected, notably because of the need to renew handsets and monthly subscription payments that generate steady income," Husson said.

Makers of handsets, those counting on the development of advertising on mobile, or the leading players in the multi-billion industry for building mobile networks are already feeling the pinch, however.

Finland's mighty group Nokia announced a near 20-per cent fall in handset sales in the fourth quarter of last year.
Follow Emirates 24|7 on Google News.