More business, less show at Vegas fair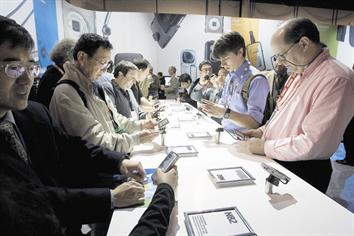 The International Consumer Electronics Show, one of the largest trade shows globally in this product segment, opens on Thursday and runs until Sunday in Las Vegas.

The show expects the same number of exhibitors this year for the 42nd annual show, but on a slightly smaller floor space: 1.7 million square feet, or about 29 football fields. That is down three football fields from last year. The economic downturn will temper the normally dizzying extravaganza, and some attendees are wondering if the whole technology trade show business is past its peak.

"I'm talking to the companies who are sending people, and they're sending two instead of 10," said Forrester Research analyst James McQuivey. "It's going to be a shadow of itself."

Last year, 140,000 people went to the show, and there were 2,700 exhibitors. Jason Oxman, senior vice-president of industry affairs at CEA (Consumer Electronics Association, the host for the exhibition) said: "Several companies have asked to buy meeting room space, rather than booths on the showroom floor. They're more focused on meeting customers and doing business than putting on large displays."

Oxman expects more than 130,000 attendees, based on the number who have registered.

"We're still viewing CES as a major event for the industry and a launch point," said Tim Alessi, the director of product development at the US arm of South Korea's LG Electronics. The company will be showing 35 new LCD TV models, among other products. But at the same time, LG is looking at how many employees it really needs to send, and Alessi expects the number to be down slightly from last year.

"That said, we still have a huge booth staff and a lot of dealer and partner meetings set up," Alessi said.

But McQuivey, the Forrester analyst, sees more than a temporary economic slump affecting CES.

It used to be a good way to announce new products that would then launch later in the year, but in today's more-competitive industry and media environment, products need to go sale as soon as they are announced, to capitalise on buzz, he believes.

"It's almost like the industry is starting to recognize that these large-scale events are not how you release products," he said.
Follow Emirates 24|7 on Google News.