Multifunction devices to lead printer sales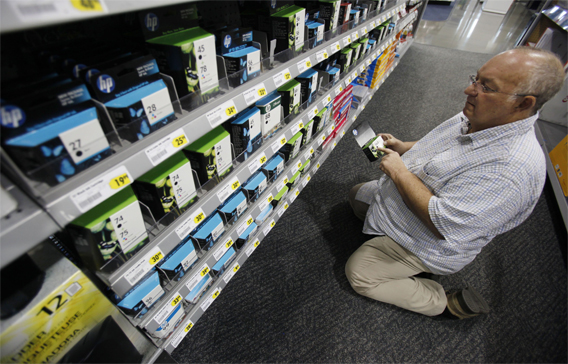 Sales of Multifunction devices (MFPs) is expected to touch 80 per cent of the inkjet printers in 2010 as manufacturers introduce competitively priced models targeting the Soho (small office/home office) segment.
IT research and advisory firm IDC expects this shift to happen faster in 2010. Sales of laser devices will also grow faster than those of inkjet devices in 2010 in the Central and Eastern Europe, the Middle East and Africa (Cema) region.
Laser HCP (hardcopy peripherals) purchases will often be driven by the need to consolidate functionalities into one device, namely an MFP. Colour laser technology (especially MFPs) will constitute the fastest-growing laser segment and will propel overall laser technology growth. At the same time, operating cost considerations will drive users to adopt tools that control colour printing.
"It's no surprise that slowing economies and shrinking demand in 2009 pushed companies to cut costs and scale back operations," says Mitri Roufka, IDC Cema Research Director, Imaging and Hardcopy Devices. "And IT was no exception to this trend. Cost-control measures introduced last year will be lifted only slowly and cautiously in 2010. However, IDC does see signs of a return to more normal spending, including investment in non-critical IT projects postponed last year."
IDC expects the Cema HCP market to return to growth in 2010, with businesses and government leading the way. However, given the size of the decline in 2009, a region-wide recovery is not expected before 2011-2012, as many key markets – including Russia, Turkey, South Africa, and Ukraine – have been severely impacted. In 2009, economic pressures changed end-user behaviour, causing them to consider total cost of ownership (TCO) as well as purchase price when acquiring devices and/or supplies. This trend is expected to intensify in 2010, as users learn more about the full costs associated with document infrastructure, and how to control such costs.
Another trend IDC sees gaining potential in 2010 is online purchasing. The economic crisis has increased internet purchases of HCP devices and ink/toner supplies, especially by Soho and small business users.
IDC expects online sales to continue gaining share in 2010 at the expense of physical stores. With companies investing in online activities, outsourcing of infrastructure will also gain adoption. Large and very large businesses as well as government organisations will speed their adoption of managed print services (MPS) and document outsourcing services as they look to improve their bottom lines and manage costs more flexibly. Given the diversity of the Cema region, however, levels of readiness to adopt outsourcing concepts vary considerably.
As costs were an important criteria, companies also resorted to buying from third party suppliers in 2009, according to IDC.
The financial crisis and increased vendor prices for original consumables pushed demand toward third-party suppliers in 2009.
HCP vendors are expected to increase their efforts to regain some of the market share lost to producers of compatible consumables, while compatible producers try to capitalise on the momentum gained during the crisis to further expand their business. End users could benefit, as the market expects new alternatives and price cuts.
Keep up with the latest business news from the region with the Emirates Business 24|7 daily newsletter. To subscribe to the newsletter, please click here.
Follow Emirates 24|7 on Google News.