Networks still to wisen up to smartphones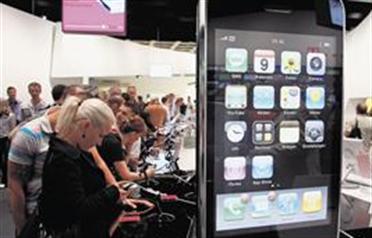 Google must not be allowed to dominate and block cash from flowing more widely through the mobile telecoms system or else the network operators will not be able to invest to cope with the growing demand for data traffic, Vodafone said.

Vittorio Colao, Chief Executive of the world's largest cellphone networks operator, yesterday told the Mobile World Congress trade fair in Barcelona that instead new business models needed to be created to cope with the demand for data services.

The comments added to the impression at the gathering that while handset makers, chipmakers and service providers are all flourishing from the rapid growth of smartphones such as Apple's iPhone, operators are being left to worry about how they are going to profit when they must also fund the related improvements needed in network capabilities.

However, BlackBerry maker Research in Motion said it was well aware of the problem, saying that smartphone manufacturers must start developing less bandwidth-guzzling products or risk choking the already congested airwaves.

As users abandon traditional mobile phones for netbooks, wireless modems and feature-rich smartphones, such as Apple's iPhone, wireless data traffic has exploded and is threatening to saturate network capacity, said co-CEO Mike Lazaridis.

"Manufacturers had better start building more efficient applications and more efficient services. There is no real way to get around this," he said. "If we don't start conserving that bandwidth, in the next few years, we are going to run into a capacity crunch. You are already experiencing the capacity crunch in the United States."

Colao said the industry was at a key point in its development, as it adapts to the new economic realities of the smartphone and the ever-increasing amounts of data that consumers wish to consume. In order to succeed, the industry needs to allow operators, content owners, application developers, search and operating system owners to develop new business models, to enable operators to continue to invest in new and faster networks.

Colao picked out two areas of concern.

Within the search and advertising market, he said one player, Google, dominated the industry and held about 70 to 80 per cent of the market, which, he said, was something that should be "looked at". He said there was a also not enough competition in certain fixed line markets in Europe that could affect the supply of higher data speeds.

Colao said the industry needed to look to alternative business models and urged regulators to give them the opportunity to experiment.

Examples he gave included allowing operators to charge customers more for higher or guaranteed bandwidth and content providers to guarantee the delivery of their content. He also said applications should be transferable between devices.

"Smartphones are absolutely, positively the hotspot," Greg Delagi, the head of Texas Instruments' mobile operations said. "That's what's driving the industry, it's the place where there are opportunities for differentiation, there's ability to win new customers."

He also indicated things may get tougher for operators, explaining that Texas Instruments was working on new capabilities such as filming and sharing three-dimensional video on smartphones which are even more data intensive.
Keep up with the latest business news from the region with the Emirates Business 24|7 daily newsletter. To subscribe to the newsletter, please click here.
Follow Emirates 24|7 on Google News.