No reduction in retailers' DSF marketing budgets despite global slowdown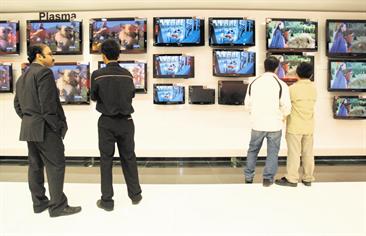 IT and electronics retailers are maintaining their investments in the Dubai Shopping Festival (DSF) at the same levels as last year despite the global economic crisis.

However, some are spending less on advertising and are using the savings in other ways, such as offering better deals to customers.

Retailers have reported a decrease in the number of tourists and changes in the behaviour of customers, who are becoming more selective and discerning. Electronics chains such as Jacky's, Sharaf DG and Jumbo are major sponsors of the DSF, which continues until February 15.

"Our retail electronics business operates under fierce competition and with wafer-thin margins," said Jimmy Patel, General Manager of Jacky's Electronics.

"Our advertising and sales promotion spend for the DSF is always the highest in our entire marketing calendar. We have retained investment levels similar to last year, though it is difficult to meet targets during this slowdown and with retail spending forecast to fall in 2009. But we are still giving it our best shot for a successful and memorable festival."

Nilesh Khalkho, CEO of Sharaf DG, said: "During last year's DSF we advertised 40 to 60 per cent discounts on 200 selected products every day. This year we are offering a DSF 'best value guarantee' to assure customers that we are offering the best deals. We had an 'opening day madness' promotion on the first day of the DSF where we offered fabulous deals and received a fabulous response. Our investment this year has been focused on offering better value to the customer in terms of value add-ons and freebies. We have reduced our advertising spend to increase the end value for customers."

However, Jumbo Electronics has not reduced its marketing budget. JP Nambiar, Head of Retail, said: "Instead Jumbo has enhanced its marketing programme by introducing special offers and exciting promotions during the DSF. We are spending more than Dh2 million as part of our marketing campaign."

Santosh Varghese, Regional General Manager of Toshiba Computer Systems Division, said: "There has been an impact from the global crisis as the flow of tourists has come down, it's not the same as last year. But we hope to see increased footfall in the coming weeks."

Nevertheless, Toshiba has significantly increased its investment and is running a much larger promotion than last year. "The Toshiba Winter Millionaire promotion is 10 times larger than our previous offer and is being supported by press and radio ads and online and PR coverage," said Varghese.

Sharaf DG also reported a fall in the number of overseas visitors. Khalkho said: "The tourist influx has declined this year, as is evident from hotel occupancy rates. The euro exchange rate means electronics are cheaper in Europe than here so the DSF is having to rely largely on the resident population. However, the impact of the crisis has been positive for customers here as the offers are better this year. Retailers have to shake off customer inertia and provide offers that cannot be refused. For example we sold an HTC PDA originally costing Dh2,499 for Dh999."

Patel said: "We may have to be ready for a prolonged period of reduced growth. Retail spending is set to fall in 2009. But as far as the DSF goes the impact will be limited. Retailers are not really bothered about margins currently and are giving huge discounts and value offers to attract customers."

And customers this year are becoming much more careful about what they spend their money on.

Patel said: "This year the consumer is wiser and more careful with his spending so it will be a challenge for retailers to meet their targets."

Khalkho said: "The consumer is being very selective and is looking only for absolute value."

Varghese added that prudent shoppers had waited for the DSF before opening up their wallets.

Nambiar said: "We have noticed that customers are looking for deals without compromising on quality."
Follow Emirates 24|7 on Google News.