Olympus will invest to enhance share and expand UAE team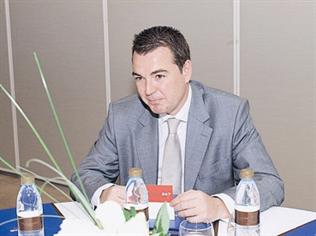 In an ambitious plan to increase its market share, camera manufacturer Olympus plans to continue investments in both consumer and professional range and expand its UAE team to achieve targets set for 2010.

Emirates Business met up with Nacho Abia, Executive Managing Director, Olympus Imagingm to learn more about the strategy the company will use to enhance its share of the global market for camera and medical imagery equipment that fetches around 60 per cent of its business.


What were the main challenges faced by Olympus in 2009?

Reduced consumer spending impacted the entire industry but for Olympus the Middle East performed better than the rest.

In 2008, the company faced rough times and with the consumer market declining Olympus was forced to reduce costs by improving efficiency. Sales that fell in 2009 are yet to recover. As a company we had to be prepared for this. Presently, Olympus is among the top three camera-makers and aims at boosting the Middle East market share with new products.

Though, like our competitors, we too were hit by the recession, we has to offer its shareholders a decent result even in tough times. Therefore investments have to be made in the future.

Does revamping the infrastructure mean cutting back on offices and staff?

There was no impact in the Middle East and in the Middle East and Africa there was infrastructure set up to support the region and funds to build the brand.

Crucial investments were not reduced and only processes were given a closer look. Re-engineering was conducted in manufacturing to reduce costs. There was no cutback in innovation of products.

In terms of hiring, we have been employing people even during recession. Staff strength at Al Sayegh, the Middle East distributor of Olympus, was increased by five percent.

How much do you spend on R&D and were there any cut backs in units sold due to worldwide financial downturn?

The R&D spend is seven to nine per cent of the annual turnover of the company.

This is a strong commitment to the market and will not change. We are targeting 11 million units to be sold in the Middle East.

Our R&D labs for the camera segment, based in Tokyo, and the medical imagery R&D centre in the US are working normally.

Globally, the market size for compact camera was less than 100 million units while DSLR was 12 to 13 million.

Did you face pricing pressure in 2009?

Price is always an issue and was definitely under pressure. Olympus has never been a price fighter. With or without competition pricing is crucial in the consumer market. From the early 1990s, competitors have either disappeared, or restructured or merged with other companies. Olympus has market share of 9.5 to 10 per cent. In 2008, our global turnover fell by nine per cent from $10bn to $9bn. On the product front, the value has come down but volumes have been steady.

Today, the megapixel range has reached 15-20 for digital cameras, will the competition on pixels continue?

Cameras were sold below one megapixel and at that time I was told nothing was possible above six million pixels, as the human eye cannot define beyond this range. But today, megapixels are beyond 15 and this competition on pixels cannot continue as the regular consumers do not need anything beyond five.

Was the medical business impacted due to global recession?

The share of the medical business before the recession was 50 per cent of the total business, which increased to 60 in 2009.

The healthcare business has not been affected as this is the sector which did not face any compromises. Olympus is also a well established brand in the imaging business. In medical imaging devices more than 50 per cent of marketshare is held by Olympus.

Digital imaging is used even in the oil industry since oil pipelines are beyond the reach of human eyes.

Do you see Olympus launching and venturing into new products?

Engineers at our labs have been told that in spite of the recession the market has to be kept alive. The compact camera is reaching level of maturity and the DSLR market is still growing. As a manufacturer we have to sync and launch products into the market.
Keep up with the latest business news from the region with the Emirates Business 24|7 daily newsletter. To subscribe to the newsletter, please click here.
Follow Emirates 24|7 on Google News.