Satyam's new board tries to chart course for scandal-hit IT company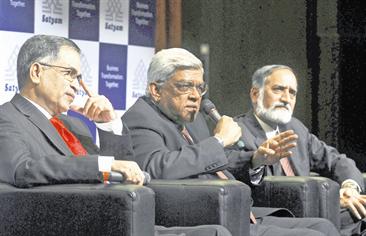 The new board of India's scandal-hit IT company Satyam Computers met for the first time yesterday, raising hopes for its future and sparking life in its moribund share price.

The three directors told reporters after the meeting that they had discussed critical issues linked to Satyam's survival, including how to retain clients, assess the $1 billion (Dh3.6bn) fraud and restate its financial accounts.

Satyam Computers is looking for a new chief executive to replace the company's founder, who is in jail after confessing to doctoring accounts by $1bn.

India's Trade Minster Kamal Nath said the government was looking at all possible ways to help Satyam.

Satyam's new board said after its first meeting the company will also choose an accounting firm to analyse its finances after the massive fraud scandal left the company struggling to survive.

Satyam Computer Services needs to restate its accounts and appoint senior people as soon as possible to get back on track, but this will take time, the new board of the fraud-hit company said.

Satyam's battered shares rebounded nearly 45 per cent to close at Rs34.4 as investor confidence was boosted by the government-installed board. As announced last week, the Mumbai stock exchange removed the company from its benchmark 30-share Sensex index in reaction to the scandal.

The board – appointed by authorities in an effort to protect India's international business image – met at Satyam's headquarters in the IT-hub Hyderabad.

They replaced Satyam's own interim board of directors who took charge after founder and chairman B Ramalinga Raju admitted the company's accounts and assets had been falsified for several years.

The new members are Deepak Parekh, the chairman of private sector housing firm HDFC; C Achuthan, a former member of regulator Securities and Exchange Board of India; and Kiran Karnik, former president of an IT lobby group, Nasscom.

"Our immediate priority is to ensure sustainability of services with minimum disruption," Parekh said after the meeting.

"We will provide strategic direction to Satyam, not run it on a daily basis. We are looking to induct fresh blood like the chief executive and chief financial officer into the company, but it will take time," he said.

He said restating the accounts would be critical, as "people do not have faith in the numbers at this stage".

The directors also said they had decided to appoint new auditors for the company. Satyam shares had been in free fall last week, closing at Rs23.85 on Friday, from around Rs180 before the scandal broke.

"The stock had been battered... there is hope that the new board would help improve fortunes for the company," said Advait Date, a dealer with brokerage BHH Securities.

In his resignation letter Raju said that heading the company as the deception grew "was like riding a tiger, not knowing how to get off without being eaten".

In December, the World Bank barred Satyam from its business dealings for eight years over "improper benefits" paid to bank staff.
Follow Emirates 24|7 on Google News.