Security hardware companies see new business opportunities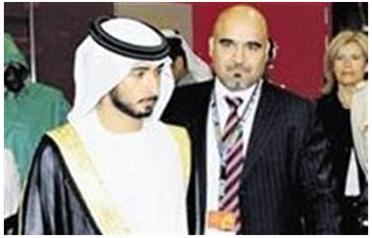 IT security hardware firms are hoping to benefit from new business opportunities in the region and Africa as construction projects are put on hold in the UAE.

Some suppliers are hoping to attract new customers at the three-day Intersec security exhibition that began in Dubai yesterday.

Sheikh Majid bin Mohammed bin Rashid Al Maktoum, Chairman of Dubai Culture and Arts Authority inaugurated the three-day Intersec Trade Fair and Conference 2009 at the Dubai International Convention and Exhibition Centre yesterday .

"Business has definitely slowed down but we are still positive about Saudi Arabia, Qatar, Bahrain and the Levant countries," said Takashi Miura, General Manager, Sales and Marketing Group, of Sony Professional Solutions Middle East. "We are exploring business leads at the exhibition and are focusing on healthcare and education as potential new sectors.

Olaf Zeissig, Regional Manager – Security Systems at Bosch Middle East, said: "The projects that are on hold in Dubai are not directly affecting our business as most of them were at the design phase and the projects under construction are half-finished will eventually be completed soon.

"It's not about the next 12 months but the next three to four years. The region will come out of the crisis faster than other countries as it is so flexible."

While delays to large projects are affecting some suppliers, others are focusing on small and medium-sized businesses. Ayman Elkhidir, Senior Planning Executive of Panasonic Marketing Middle East, said: "Though bigger projects are on hold the small to medium projects are continuing and therefore it makes sense to focus on them. We also have a wide product range focusing on all types of customers."

While business is down generally, inquiries are still coming in to Axis Communications Mena, which specialises in IP-based cameras. Regional Manager Gilles Ortega said: "We haven't noticed any change in our business. The projects we are involved in are going on and we have been receiving business enquiries since the beginning of this month."

Customers have moved to IP-based cameras from analog, according to top officials at the ongoing Intersec International Trade fair.

"At the exhibition this year it is obvious that all the big manufacturers are focusing on IP based cameras. The cost is no more a factor in the use of the technology," said the regional manager at Axis Communications.

Even Panasonic deals in both and has customer interests coming in for both the product lines.

"We have customer interests coming in for both the product lines. I am also looking forward to see other new technologies at the exhibition as we work a lot with third party vendors and therefore a lot of integration happens with the hardware team," said Ayman.

Many of the participants also said there has been less of participants this year compared to previous years.

"Our company was part of the German pavilion last year and there are companies missing from last year. This is also good as there is quality of participation and attendees," said Olaf.

Though the recession has affected the participation, Takashi Miura is positive. "This is only biggest platform we have to display our security line of products therefore our company looks forward to this exhibition," he said.

The event was spread over eight halls covering 420,000 square feet.

Messe Frankfurt are the organisers of the event. A highlight of this year's edition of Intersec is the conference programme where 65 renowned international speakers on security, safety and other relevant subjects will be speaking at the three-day conference.

There are four focused areas within the Intersec exhibition, which are: Commercial Security and Information Security; Homeland Security and Counter Terrorism, Fire and Rescue; and Safety and Health.

Angela Schierholz, Senior Show Manager of Intersec said: "Intersec is the largest and most comprehensive event of its kind in the world outside Europe.

"The Dubai event spreads over eight halls with 700 exhibitors from 50 countries displaying their products."

She said the three-day event is likely to result in business for all participating exhibitors. "We are anticipating an attendance in excess of 20,000 trade visitors from 100 countries based on feedback from our pre-registered visitors."
Follow Emirates 24|7 on Google News.