Smartphones Q3 revenue $2.8bn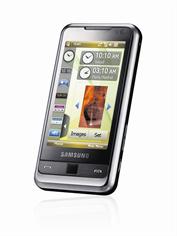 The Middle East is one of the world's leading markets for smartphones with a record number of the multi-function gadgets unveiled in the first nine months of 2008, said retailers and manufacturers.

Smartphone manufacturers such as Sony Ericsson, Samsung, Blackberry and HTC have had high revenues from the region. "The third quarter revenues last year were $2.78 billion (Dh10.2bn), up 7.9 per cent from $2.58bn in the previous quarter and up 66.3 per cent from $1.67bn in the same quarter of the year before. More and more people are focusing on productivity both in and out of the work place. It's our understanding that the smartphone market is experiencing a high growth in the UAE," said Khaled Kefel, Director of Sales, Middle East, at Research In Motion (RIM), the makers of Blackberry.

This growth is also attributed to the fact that the Middle East has positioned itself as one of the centres of international business and there is an increasing awareness of mobility.

Kevin Chen, HTC's General Manager for the MEA and CIS, said: "Our latest offering to the market is the HTC Touch HD which is an entertainment-focused handset that transforms how people use the mobile internet and experience multimedia on the move. HTC Touch HD is the perfect device for multimedia fans. HTC Touch Viva packs all the functionality of a mobile office at Dh1,299 for the cost-sensitive customers. We have gained significant market share in the short span that we have established the brand in UAE."

Touch screen phones are another important factor for the growth in the smartphone segment. "Samsung plans to offer a wider range of touch screen and multimedia smartphones this year," said Sandeep Saihgal, General Manager, Mobile Phone Division, at Samsung Gulf Electronics. "Throughout 2008, we have provided our customers with a touch-screen lineup of smartphones – Samsung F480, Omnia, Haptic and Instinct were well received by users and industry professionals all around the world."

According to IMS research's online cellular database, more than one in four handsets will be smartphones in the year 2010, with projected sales of more than 1.5 billion.

This growth will be driven by touch-screen applications that enable the consumer to enjoy accessible and relevant mobile phone and internet browsing, said Samsung.

HTC reached a record level on the day the Blackberry Storm launched in the United States and RIM achieved a record number of weekly net subscriber account additions during the last week of the third quarter. HTC will also be among the first ones to introduce Android – a software platform and operating system for mobile devices, based on the Linux kernel, developed by Google – this year. This operating system will be a direct competitor for Windows' mobile business.

"Android is enabling us to expand our device portfolio into a new category of consumer-based mobile phones while continuing to grow our Windows Mobile business further. We see a lot of interest globally from operators as well as consumers keen on leveraging web services for a truly mobile internet experience. Our market expectations for 2009 are based on the phenomenal acceptance of our first Android offering," said HTC's Chen.

As smart phone manufacturers experiment with operating systems, a lot of them also have higher profit margins in smartphones.

Saihgal said: "Handset vendors are coming out with new touch screen smartphones every three to six months and many handset start-ups enter the market with smartphones offering higher margins, allowing new companies to become profitable sooner."

According to Samsung, the market demand for smartphones in 2008 reached 166,191 units and growth has been primarily driven by a new breed of devices.

Research firm iSuppli said by 2013 this market segment will grow to 833 million units, expanding at an annual rate of 19.5 per cent.

Market research firm Gartner said smartphones would out-ship laptops and there would be about 300 million in use worldwide by 2011.
Follow Emirates 24|7 on Google News.