Solar-powered phones set to connect people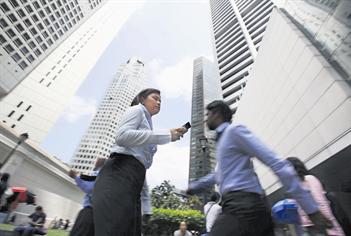 Mobile phone makers are set to unveil solar powered devices one of which is also targeted at the two billion people who have no or limited access to electricity.

Chinese group ZTE was set to unveil the world's first low-cost solar-powered mobile phone, a spokeswoman said. The first solar phone was put on display by South Korean rival Samsung earlier this week here at Mobile World Congress, the industry's biggest trade show, creating a buzz around the alternative energy source.

Samsung's phone, called Blue Earth, has mini solar panels on its back and is to go on sale later this year. The handset will be expensive, however, and targeted at "green"-conscious consumers in developed countries. A spokeswoman for ZTE said the company's version, to be unmasked at a press conference later, would be the first ultra-low-cost solar handset pitched at the poor. It is expected to have a screen and buttons on one side and solar panels on the other.

South Koreas' LG has also put a prototype solar-powered phone on display in Barcelona, but it is not yet ready for market.

Gavin Byrne, an analyst at telecom research group Informa, said there would be demand for a solar-powered device in countries where electricity is scarce.

He pointed to the existence of "charging booths" in some African countries where people pay to plug their phones in for a few hours because they have no electricity at home.

"There is an opportunity for solar-powered phones in emerging markets," he said.

"That there are businesses charging up mobiles shows there is a latent demand for a charging device where there isn't a regular power supply."

Analysts say the key to success for a solar-powered phone is the recharge time.

A salesman for Samsung claimed 10-14 hours in the sun would give a user four hours of talk time.
Follow Emirates 24|7 on Google News.