Stronger yen weakens Canon profit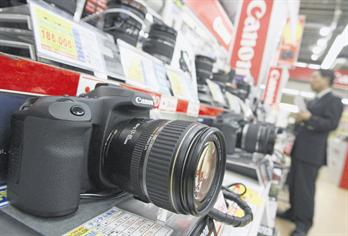 Sliding consumer demand, steep price falls and the strength of the yen have hit profitability of Japan's Canon, the world's largest digital camera maker.

A stronger yen makes products less price-competitive overseas and eats into revenues when converted into the Japanese currency.

Canon reported an 81 percent fall in quarterly profit and predicted a two-thirds decline this year, hit by slumping demand for cameras and office equipment and a stronger yen.

Canon expects its digital camera sales to fall seven per cent from a year earlier to 23.9 million units in 2009, in line with an expected decline in the global market.

Canon's annual forecast is closely watched as it is the first earnings indicator from a major Japanese exporter for the year ahead.

While most Japanese companies close their books on March 31, Canon's business year ends on December 31.

The company, which leads Sony Corporation and Nikon Corporation in the digital camera market, did not give a dividend forecast for 2009. It said it would aim to cut about ¥70 billion (Dh2.88bn) in costs in 2009 as it copes with a crisis that has pushed many of its rival electronics makers into the red, forcing them to scale back production and slash jobs.

"Earnings like this can be viewed as inevitable considering the irregular condition of the economy," said Mitsushige Akino, chief fund manager at Ichiyoshi Investment Management.

"The focus will be on how much the company can advance restructuring of its businesses. If it can show that to the market, its stock price could go back up."

Canon, which makes EOS and IXY brand digital cameras, expects its operating profit to fall 68 per cent to ¥160bn in 2009, the lowest in 14 years, after posting its first annual operating profit decline in nine years in 2008. The 2009 forecast compares with the consensus ¥309.8bn profit in a poll of 16 analysts by Reuters Estimates.

"A substantial recovery in the economy is unlikely in 2009. Our operating environment will be even harder this year than it was last year," Canon Managing Director Masahiro Osawa told a news conference.

For October-December, the company's operating profit totalled ¥35.8bn, down from ¥193.58bn a year earlier. Net profit fell 91 per cent to ¥11.6bn.

Canon competes with Xerox Corporation, Ricoh Company Ltd and Konica Minolta Holdings in copiers and printers. The company's office equipment operation is under pressure as corporate customers rein in spending on information technology.
Follow Emirates 24|7 on Google News.