Technology improves student engagement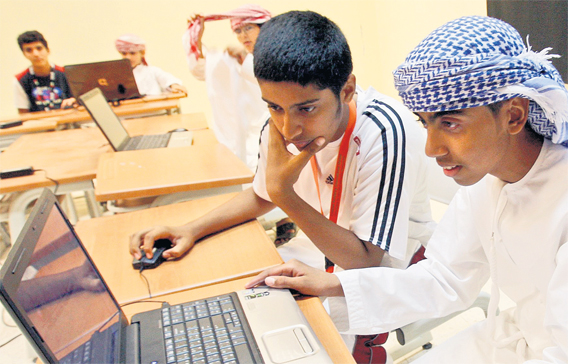 Technology improves student engagement and hence will have an impact on student success not only in school but also in the workplace, say teachers and e-education industry experts.
Talking to Emirates Business on the sidelines of the ongoing Gulf Educational Supplies and Solution 2010 (Gess) about how technology benefits students, David Sample, Chief Commercial Officer, Edutech, said: "It really starts with the student engagement. Once engaged, learning becomes an active learning that should generate more individual success.
"Today's students are digital natives and they expect technology to be part of the education experience. This is because the way young people receive and absorb information today is completely different. Often at home through computers, the internet or educational television programmes, they have experienced learning that is technology enhanced. Therefore, it is expected in school. Technology improves student engagement, and hence will have an impact on student success."
Former teacher and education consultant John Botham, owner JB Consultancy said: "We live in a world dominated by technology. Modern day workplaces are a classic example of how much we depend on technology- laptops, internet, Blackberry-how it pervades our life.
"We need to mould today's generation to face the challenges of the modern day workplace and use of technology in schools prepares our students for the modern workplace.
"Plus technology engages students more and allows them to learn at their own pace."
According to the experts, the ability to remediate students in a more efficient manner through technology will allow for earlier and more proscriptive remediation in time to have a positive impact on the student. Catch them early and prevent failure as the driver of remediation.
"Schools that employ technology generates impressive results for students, including higher achievement; higher test scores; improved student attitude, enthusiasm, and engagement; richer classroom content; and improved student retention," Sample said.
Wilson Xavier, Windows Client Business Group Lead, Microsoft Gulf, said: "Not only is technological literacy now a foundational skill with the ubiquity of technology in the workplace, but classroom-friendly technologies such as tablet PCs, online learning spaces, digital textbooks and note-taking software actively enable students to conduct research, capture and organize information and analyse its reliability, communicate their insights to others, and collaborate with classmates."
Asked if too much dependence on technology for studies was not a bad thing, the experts said the students of today learn very different things when compared to just 10 years ago. Technology helps equip students with the life and career skills they need to prepare them for success in our rapidly changing, connected world.
Xavier said: "Technology stimulates fresh and bold thinking, enhances the learning experience and can also lead to the development of new technology innovations. One example of this is the Microsoft Imagine Cup where the brightest young minds from across the world come together and by using technology, take on the toughest problems facing our world today."
Sample said: "The key here is that technology is not the answer. It is a foundation to get to the answer. One must wrap technology around the issue versus pushing the issue into technology.
"Proper use of technology includes utilising good software appropriate to the educational objectives for the child."
What's here today
Learning infrastructure platform: Enables increased student engagement, faculty productivity and family involvement
Hands on learning devises: Response pads promote active learning through participation.
Multi-media software and rich content: Greater stimulation that increases the student's level of engagement.
Interactive gaming and skill building tools: Allows for more exciting learning environment and the ability to address the pace of learning for each individual.
Video and audio technologies: Brings material to life
Distance learning: As effective as traditional methods of instruction. Allows for the introduction of teachers from other areas of the country or world with no travel involved.
Keep up with the latest business news from the region with the Emirates Business 24|7 daily newsletter. To subscribe to the newsletter, please click here.
Follow Emirates 24|7 on Google News.