UAE's etisalat wins Iran mobile phone licence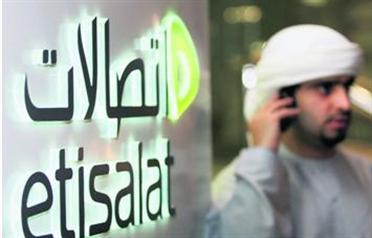 A consortium including Emirates Telecommunications (etisalat) has won an international tender for Iran's third mobile phone licence, Iranian media reported on Monday.
Etisalat, the Arab world's second-largest telecommunications company by market value, said in December it was part of a consortium that had made the highest bid for the licence.
Iran's nuclear row with the West has made foreign companies more wary of investing in the country, but analysts say the size of the market and its energy riches still make it an attractive investment prospect.
The ISNA news agency, which did not give financial details, cited the public relations office of Iran's telecommunications regulatory office as saying etisalat had landed the deal.
"In view of the assessment done at the tender commission, the best proposal belonged to the etisalat procurement consortium and the consortium was consequently confirmed as the winner in the tender," ISNA said.
Other media, including the official IRNA news agency, also reported etisalat had won the bidding.
The consortium also includes Iran's Tamin Telecom. Iranian state radio said last month the non-Iranian company would have a 49 per cent stake in the project.
Among other consortiums that bid for the licence were Oman Telecommunications Co (Omantel) and a Malaysian company, TM International.
Another Iranian news agency, Fars, said on December 22 that etisalat had secured the license, citing an unnamed source, but that the result still needed ministerial approval.
The two existing operators in Iran are the state telephone company and Irancell, a company that is 49 per cent owned by MTN Group, sub-Saharan Africa's biggest mobile phone company.
Iran has a mobile penetration rate of less than 60 per cent in a market where about half of its 70 million population are under 25 years of age.
Etisalat, which operates in 18 countries, is part of a wave of Gulf Arab telecom operators that have launched overseas operations after losing their monopolies at home.
Iran's long-running dispute with the West over its nuclear ambitions has led to three rounds of limited UN sanctions and mounting international pressure, deterring many Western firms in particular from investing or expanding business in Iran.
The West accuses Iran, the world's fourth-largest crude producer, of trying to covertly build nuclear bombs. Iran insists its nuclear work is aimed at generating electricity. 
Follow Emirates 24|7 on Google News.