US senator asks Microsoft Corp to axe foreign workers first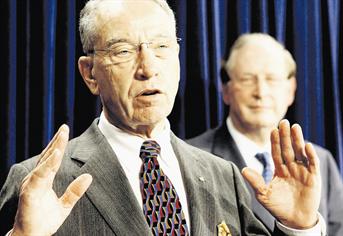 A US senator has asked Microsoft Corp about its plans to slash up to 5,000 jobs, urging the world's biggest software company to preserve the jobs of Americans ahead of foreigners working on visas.

"I am concerned that Microsoft will be retaining foreign guest workers rather than similarly qualified American employees when it implements its layoff plan," said Senator Charles Grassley, an Iowa Republican, in a letter to the tech company.

Microsoft shocked investors last week when it released quarterly results that missed Wall Street expectations, announced up to 5,000 layoffs and said it would no longer give forecasts for the rest of the fiscal year.

The company has been a champion of expanding the H-1B visa programme, a temporary visa programme that lets American companies and universities hire foreign workers in a category considered by the government to be a "specialty occupation".

Microsoft said on Friday that some of the people who lose their jobs would likely be non-Americans.

"We care about all our employees, so we are providing services and support to try to help every affected worker, whether they are US workers or foreign nationals working in this country on a visa," a Microsoft spokesperson said in a statement.

Microsoft employs thousands of workers through the visa programme, according to Grassley, the top Republican on the Senate Finance Committee.

The letter asked Microsoft Chief Executive Steve Ballmer to provide a breakdown of the jobs to be eliminated, and how many of those are individuals with H-1B visas and how many are Americans. Grassley also wants to know what the breakdown will be when the layoffs are complete.

"Microsoft has a moral obligation to protect these American workers by putting them first during these difficult economic times," Grassley said in the letter, copies of which were provided by his office on Friday.
Follow Emirates 24|7 on Google News.