Western call centre firms eye Middle East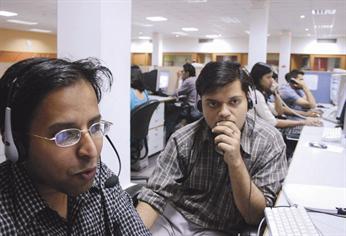 Companies based in Europe, America and Australia specialising in call centre solutions are now looking at expanding their business and presence in the Middle East.

As business and investments slowdown in the progressive markets, these companies see a lot of potential and higher cash flow in this region. The Message Group, an Australian-based company opened its offices at Dubai Internet City at the end of 2008.

Its Business Development Director for the UAE, Raveena Lal, said: "The local companies based in UAE are so big with good investment plans. With marketing budgets getting cut, these companies can actually use our kind of product to get business."

The messagesonhold product helps companies run their promotions and advertisements while the customer is on hold to speak to an agent.

"We are already working with technology providers like Avaya, Genesys and lot of clients like banks, hotels and such other potential sectors," said Lal.

While companies are looking at this region now, there are a few like US-based Spectrum Solutions International, who have been operating through partners in the region for some time.

"We have been present through partners like Al Yousuf but there is still a lot of work to be done on customer awareness as there was no direct presence. It is a growing market for the call centre business especially in the financial segment," explained Alexander Philips, Spectrum Director, Emea.

Spectrum specialises in display solutions at call centre especially in customer information and statistics.

"Markets are more competitive with the economic downturn and it would be easier setting up an office few years back."

Though most of these companies work with partners to distribute their technology solutions lot of them a few choose to work directly like German-based Almato Contact Center solutions. Peter Gissman, Managing Partner at Almato said: "We mostly work directly with customers and if we find the right partner will work with them. Almato has established its Central Europe office but now that I am responsible for the EMEA region will be looking at opening offices in Istanbul and Turkey. We are also investigating on opening an office in Dubai."

The companies may be upbeat on the Middle East market but there are already established technology providers in the call center space in the region. These local players opine that lack of market knowledge and experience will not help out these companies to capture business, Telefinity Computer Telephony Solutions based in Jordan operates through partners in Sudan, Saudi Arabia and Dubai.

Mohammad Al Najjar, Sales and Marketing Director said: "These companies trying to establish businesses will not understand the GCC market. Our focus on the Middle East has been for a long time and in 2009 we are in fact looking at Europe and South Africa to grow our business."

Servion Global Solutions is another Sharjah-based company who has been operating in the region for 12 years covering the entire Emea region.

Rohit Raole, Regional Sales Manager (Emea) agrees with Al Najjar said: "We are very niche and no specific competition as we have been in the region for a long time."
Follow Emirates 24|7 on Google News.