Women in the Middle East making their mark in politics and business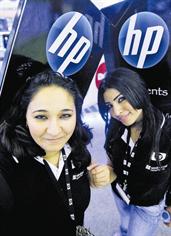 Women in the Middle East are now gradually gaining a foothold in the political and business arena, top female leaders told the 11th Global Businesswomen and Leaders Summit yesterday.

According to Sheikha Hessa bint Khalifa bin Ahmed Al Khalifa of the United Nations Development Programme – Bahrain, women in the island kingdom, for instance, are now instrumental in developing policies for the country.

"An advisor to the minister, the assistant chief of public security, the policy advisor at the public security headquarters are all women. We are very proud that Bahraini women have managed to establish a name for themselves," she said.

In Hewlett Packard Middle East, women comprise about 40 per cent of the managerial staff, Sherifa Hady, former consumer business manager, Imaging and Printing group, HP, said.

"About 40 to 52 per cent of the Middle East's population is women. How can we sell products to these women if we don't have many women in the company?" she said. "In HP, we want to be diversified so we set a quota and we have policies in line with that." Hady said women's leadership would continue to grow, as there is also a growing need for more women-oriented products. To this end, HP had hired four women from Saudi Arabia and set up a separate division for them. Although the return on investment is primarily community-based and non-tangible, she said this is a good step to start a female team in Saudi Arabia.

"HP is not just a selling machine," she said. "We many not have added notebooks and printers on our sales but what we have is an ROI for the community," Hady said.

Sheikha Hessa added the Middle East has a unique culture and each country has its own way of doing things.

Asked how is the UN addressing the issue of gender equality, she said while policies exist in theory, their implementation is much harder to achieve. "It's very important to understand where the UN came from and how it is structured," she said. "What I can say is that they are trying. My recommendation is to respect and understand the national characteristics of individual countries. If one initiative works in the UAE, it doesn't mean it will work in Bahrain. Sometimes they forget that."

A long list of Arab women have already carved their mark in the political and business history.

In 2004, the UAE appointed Sheikha Lubna Al Qasimi, a member of the Sharjah Royal Family, as the Emirate's first female government minister.

In September 2005, Salma Ali Saif Bin Hareb, CEO Jafza and Economic Zones World, made history when she became the first woman in the Middle East and North Africa to be appointed the head of a free zone. Afnan Al Zayani, on the other hand, has been the president and proprietor of Bahrain-based Al Zayani Commercial Services (AZCS) since 1999.
Follow Emirates 24|7 on Google News.