TiVo set-top box integrates internet and TV programmes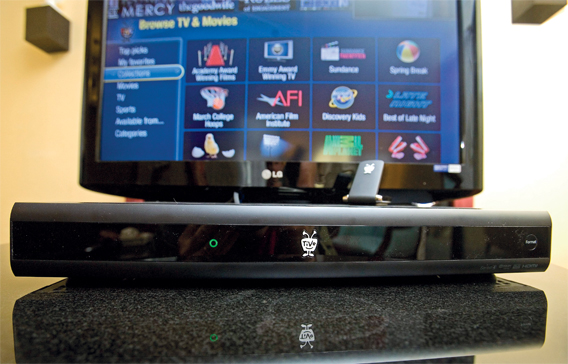 TiVo introduced a television set-top box on Tuesday that simplifies finding videos from web outlets such as Netflix and YouTube in addition to local programme listings.
TiVo, whose technology has made its name synonymous with digital TV recording, said its "Premiere" box – available in April starting at about $300 (Dh1,101) – allows users to find myriad video offerings from disparate services via a single system.
As digital video recorders (DVR) have become staples in homes, TiVo has fought to differentiate itself from generic DVRs offered by cable and satellite providers.
DVRs, best known for their ability to record shows, pause live TV and skip commercials, are distributed free by cable companies even though they lack many of TiVo's features. By contrast, TiVo's will sell two "Premiere" models: a $300 unit that holds 45 hours of high-definition content, and a 150-hour model for $500.
Millions of DVRs have been handed out by providers such as Time Warner and Cablevision. Customers typically pay a monthly fee, which often is less than TiVo's.
Building a better box may only go so far in helping the company expand its base of just over 1.5 million subscribers, who pay TiVo a monthly service fee. "It's easier to make the decision to go with the cable providers, and it's easier to stay with your cable provider," said Forrester Research analyst James McQuivey. "That's the problem that TiVo faces. They offer a lot of benefits, but they still are saddled with barriers."
McQuivey said TiVo's latest innovation is more likely to inspire a wave of upgrades by current users with older version's of TiVo set-top boxes, rather than spur new customers to join. TiVo Chief Executive Tom Rogers called the unveiling of Premiere – which will be available at Best Buy and Amazon.com – the "first major new chapter of TiVo's evolution".
"We are looking for it to spur retail and distributor-based subscriber growth, and we think it will be very much a catalyst to doing that," he said.
TiVo has DVR deals with providers including Comcast, RCN and Virgin Media, but only RCN will distribute the new boxes to customers this year.
Rogers said Premiere uses Adobe Flash software, which could eventually open the system up to programming related tools and services made by outside developers. However, he stopped short of saying it would open an "app store" similar to the ones operated by mobile phone makers Apple and Research in Motion.
Keep up with the latest business news from the region with the Emirates Business 24|7 daily newsletter. To subscribe to the newsletter, please click here.
Follow Emirates 24|7 on Google News.