Business break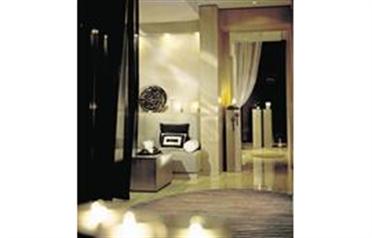 THE DEEPER ISSUE 

Let's be honest. A decade ago a 'real' man wouldn't have been caught dead with a specially made designer male moisturiser, let alone been seen at an all male spa having a facial. But times have changed – thank goodness and now we can treat ourselves to the same products and treatments as our female counterparts have done for years.

And I am told, there is nothing more attractive to the opposite sex than a man who takes care of himself. So, with the relief that I could now sort my skin out without being told I wasn't a 'real' man and in the belief that I could look like David Beckham, I headed off for a facial at the Timeless Spa at The Harbour Hotel & Residence in Dubai Marina

ON THE FACE OF IT 

The Harbour Hotel & Residence may currently be at the heart of a noisy under construction road network – but once inside the welcoming spa it takes very little time for the shoulders to relax and the head to stop throbbing.

Therapists specialise in responding to the precise problems of customers. Excruciating lower back pain due to too many long drives in a rattling 4x4? Sore shoulder from a strenuous game of tennis? A hurried morning shave has left your skin with all the smoothness of sandpaper? No problem for one of the specially trained staff.

I tried the Deep Cleansing and Exfoliating Facial, which pays particular attention to the problem of ingrowing beard hairs. During the course of the 45 minute treatment, a total of six lotions were applied – each opening the pores even more to allow deep grease and grime to be washed away.

For weeks afterwards, shaving was no longer the sore issue it once was. The hour-long treatment also includes a salt therapy back massage to ease stress and reduce tension in the mind and body.

SIGNATURE STYLE 

With a team of gifted international therapists, Timeless Spa specialises in a wide range of wellness, rejuvenation and beauty therapies using a fusion of healing practices drawn from cultures around the world. It truly represents the international nature of Dubai.

The signature treatments draw on the wisdom of Middle Eastern aromatherapy and Far Eastern healing therapies. It caters to both men and women and offers everything from massages and scrubs to facials. It also has a steam room, swimming pool, Jacuzzi and a well-equipped fitness centre, perfect for the busy business traveller.
-Timeless Spa at The Harbour Hotel & Residence. Call: 04 319 4630
Follow Emirates 24|7 on Google News.