Dubailand F1 theme park makes a pit stop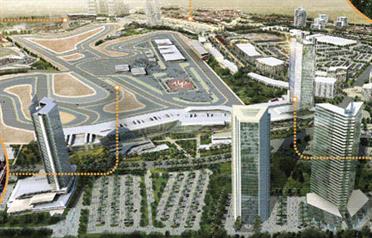 Union Properties may have announced this week the suspension of work on its vast F1-X motorsport theme park and community, but the opening will still go ahead in 2010 making the family attraction one of the first to open in Dubailand.

The company said the current financial climate was to blame for the decision, but insisted its business model was robust and work would continue.

In a statement, Penny Fischer, F1-X's Marketing Director, said: "With construction more than 50 per cent complete, the core of international expertise on the ground and operational plans virtually complete, it is hard to believe that a financial partner will not come forward in coming days or weeks to capitalise on the opportunity."

Indeed, F1-X is described as a truly international effort – much like the sport of Formula One itself.

Engineers, designers and architects from around the world – Britain, Australia, Europe and North America – have been brought in to the UAE to help create the $460 million (Dh2.48 billion) venture.

And its bespoke installations, rides and technology are all currently under construction in 14 countries on four continents, ahead of shipment to the Gulf.

It is estimated F1-X Dubai – a F1-themed entertainment park spread across 70 acres (285,000 sq m) that will feature 13 major rides and attractions – will lure more than one million visitors annually to the emirate.

The park will feature four main components – F1-X Dubai, Dubai Autodrome for motorsport fans, and two residential areas, called Uptown MotorCity and Green Community MotorCity.

F1-X will also feature a 242-room four-star Marriott Courtyard Hotel, with "subtle" elements reflecting the racing-themed destination.

A Union Properties spokesman said: "We are offering F1 fans an immersion into the world of Formula One, to get close to the sport and its essence, its history, the unique technological aspects that go with it, and of course, a glimpse behind the scenes.

"Designed by a team of the world's best entertainment and theme park experts, F1-X will bring the world of Formula One, past, present and future, together with a full-service leisure environment," said the spokesman.
Follow Emirates 24|7 on Google News.