Emaar Hospitality to add 15 hotels to portfolio by 2011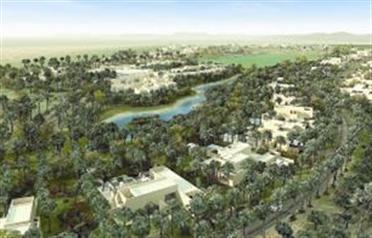 Emaar Hospitality Group's premium hotel brand, The Address Hotels + Resorts, plans to add up to 15 hotels to its portfolio by 2011 despite the global financial crisis, said a top executive.

"We plan to open between 10 and 15 hotels – of which some would be owned by us, branded The Address, while others would be managed by us," Marc Dardenne, Chief Executive Officer, Emaar Hospitality Group, told Emirates Business.

The Address yesterday signed its first international management contract with a Saudi Arabia-based business conglomerate, Azmi Abdelhadi (AAH) Group, to operate a luxury property – 76 villas to be branded The Address – within Jnan Amar Polo Retreat, a premium mixed-use development in Marrakech, Morocco, with total project value exceeding $85 million (Dh312.2m).

Scheduled to open in 2011 and spread over 40 hectares, Jnan Amar Polo Retreat is being developed by AAH Group subsidiary, Siama (Societe d'investissement Al Amal pour le Maroc), Morocco. The company is also developing a number of real estate and tourist projects in several regions of Morocco with total investments of more than $120m.

"We are also in talks with The Address for signing management contracts for two more resort developments under way in Morocco," Ammar Abdelhadi, General Manager, Siama, told Emirates Business.

Dardenne said: "Jnan Amar Retreat is our first management contract. We are clearly looking at more such partnerships – locally as well as internationally."

Even in a credit-starved environment, Emaar's premium hotel brand plans to expand into international markets such as the United States, London, Europe, Asia, the Indian Subcontinent and North Africa. Within the Middle East, The Address is scheduled to open more properties in the UAE, Kuwait, Egypt, Jordan and Syria, according to Dardenne.

Besides, while The Address opened its first flagship property in Downtown Burj Dubai three months ago, the other two properties in Dubai – The Address, Dubai Mall and The Address, Dubai Marina – are scheduled to open sometime later this year.

When asked if this was the right time to venture into new international markets, Dardenne said: "It is the right time. On the international front, all our hotels are under development and they will be ready only by 2011, by which time the whole world economy would have turned around."

"We have had a global approach from the very beginning. It is going to be a global company," he added.

While Dardenne refused to divulge the investment involved in expanding the hotel brand into other markets, he said maximum revenues for the company would come from Dubai for the next two years. "We are expecting limited revenues from international markets before 2011," he said.

With a total portfolio of hospitality assets valued at $1 billion as of March 2008, Emaar Hospitality owns and manages a diversified portfolio of hospitality assets such as hotels, serviced residences, golf resorts, Dubai Polo and Equestrian Club, recreation clubs, the Dubai Marina and associated yacht club. Nuran is Emaar Hospitality's brand for serviced residences.
Follow Emirates 24|7 on Google News.