Escape to a treasure of the East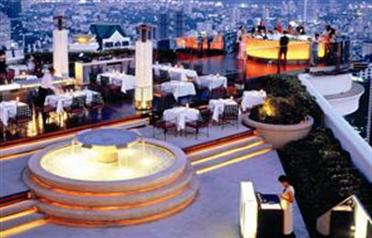 'One night in Bangkok and the world's your oyster,' famously chants that most 80's of pop classics penned by Abba's Benny and Bjorn. But one night in this glistening city of temples, shopping malls, sizzling snack carts and gourmet restaurants, where ancient and modern collide on almost every street corner, would provide just a tempting taste of the delights Bangkok has in store. A week, or even a month, would better suit visitors keen to get beneath the city's glossy skin, whilst a simple weekend can prove perfect for those particularly keen to indulge in those two worthy pursuits, which the city does with aplomb: shopping and eating.

Amid the golden-roofed palaces of the Grand Palace and the green expanses of Lumphini Park lie some of the best culinary and retail opportunities in Asia, and, with a weekend at your disposal, you're fully equipped to delve deep into both delicious worlds. Arriving on late Friday afternoon, check into your hotel to refresh and unwind ahead of the sybaritic treats that lie in store. Though the city abounds with flash, five-star spa hotels equipped with every imaginable luxury, one cute, quaint alternative is to wind your way through Bangkok backstreets to the heavenly Phranakorn-Nornlen hotel hideaway.

With double rooms priced at just 2,200 Thai baht (Dh230), what the hotel lacks in plasma TVs and sunken bathtubs it more than makes up for in homeliness and atmosphere. Walls here are painted in bright, soothing murals; each room comes equipped with a CD player and a copy of the hotel's own chill-out CD. Guests are welcomed with a delicious fruit cocktail, and breakfasts are macrobiotic, sumptuous and change daily.

With your thirst quenched and your night's rest and morning repast organised, it's time for dinner. You can't go wrong with the chic Tamarind Café, a vegetarian concern with a sister branch in Hanoi, which pours a mean drink and stacks a mighty tasty Tower of Babel, a high-rise concoction of vegetables and tofu, accompanied by pineapple tempura and coconut rice. After dinner, head down to the riverside strip along Thanon Phra Arthit where Thai student hangouts jostle for elbow-room and keen guitarists strum up chirpy Jack Johnson melodies on tiny, cramped stages. If you're still feeling peckish, eateries on the strip whip up great, basic soups, snacks and curries to accompany the litres of local beverages consumed by students: take a peek at your neighbour's plate and satisfy your late night hunger accordingly.

Don't, however, make too late a night of it, since Saturday morning for thousands of Bangkokites means time to hit the city's malls, each more laden than the last. With well over a dozen to choose from, it's hard to know where to start, but several stand out from the crowd. There's the divine Siam Paragon, where you can pick up a new Ferrari as easily as a pair of Prada shoes, then spend a few hours recovering from your spending spree beneath the cool blue waters of the mall's vast Ocean World aquarium. Or head instead to CentralWorld shopping mall, the largest 'lifestyle complex' in Asia, where half a million square metres of retail space await, and where a five-star hotel is scheduled to open in early 2009 to cater to the most indomitable of shoppers. For technophiles, however, Pantip Plaza is without doubt the don't-miss destination. With acres of floorspace devoted to all things IT, you can pick up almost any soft- or hardware product known to mankind.

Dining, too, is easy during a day of mall-hopping: If you find you don't have time to break from a bout of retail therapy, the city's manifold street vendors are ready and waiting to dish up a quick bite on the run. The best bet when hunting down street snacks is to follow your nose, and the hungry crowds, in the direction of the nearest fragrant vat or cauldron: A busy street vendor means a tasty product, whether it's Bangkok's ubiquitous pad thai (noodles with egg, tofu and peanuts), a bowl of spicy duck noodles, or a slurpable khanom jeen (spicy coconut curry with rice noodles and vegetables). Then, after a trip back to the hotel to deposit the spoils of the day, head out to re-energise at the hip Bed Supper Club (www.bedsupperclub.com), a restaurant, performance space and nightclub rolled into one chic, minimalist package, where a no-shoe rule applies as you lounge back to savour the night's theatrical and DJ delights.

On Sunday morning, prepare yourself for a thoroughly different day of shopping as you venture into the labyrinthine depths of probably the best shopping experience anywhere on the planet: The Chatuchak Weekend Market, around 45 acres of market stalls selling everything from custom clothing to baby chipmunks, and where several golden rules apply. The first: bargain hard, since most stalls expect you to barter and banter your way to a good deal. The second: stop often. The market is peppered with great, cool pit stops to grab a reviving macchiato or a plate of spicy spring rolls. And the third: if you see something you like, don't wait for later – with around 15,000 individual shops in total, it's unlikely you'll ever manage to retrace your steps.

After another long day on your feet, take the evening off for a drink at the dizzying Sky Bar on the sixty-third floor of the city's State Tower, then a waterside Thai dinner at the Peninsula Hotel's divine Thiptara restaurant. And, as you gaze out from your table at the city lights reflected in the darkened Chao Phraya river, reflect again on your weekend's purchasing triumphs – and on the expanse of malls, stores and local markets that still awaits, glinting, before you.


Essential guide 

Hotel

-Phranakorn-Nornlen Hotel (www.phranakorn-nornlen.com); 46 Thewet soi 1, Phranakorn, Bangkok. Tel: +66 (0) 26288188-90 Fax: +66 (0) 26288600. Doubles cost around US$66 per night.

FLIGHT COSTS FROM DUBAI 

-Direct return flights from Dubai to Bangkok with Emirates currently cost around Dh 3,290 per person, with a flight time of six hours.

MUST SEE

-For more unusual shopping, take an early morning trip to the tourist-heavy but photogenic Damnoen Saduak floating markets, or head out in the middle of the night to the fragrant Pak Khlong Talak flower market, most vibrant between 2am and 6am.

MUST EAT 

-Green, red or yellow whichever you choose, Thailand's curries are sure to please.

-Soothe spice-laden palates with a cold glass of Thai Singha, and follow up with a plate of tree-fresh pineapple.

BEST TIME TO GO 

-Any time of the year is great for a spot of Bangkok shopping, but if you're hoping to catch some local tradition, head to Thailand in April for the colourful and sopping-wet, Songkran water festival.

DON'T LEAVE HOME WITHOUT

-A stout suitcase to contain all your purchases, and a hearty appetite for experimentation.
Follow Emirates 24|7 on Google News.