Fair winds attract investors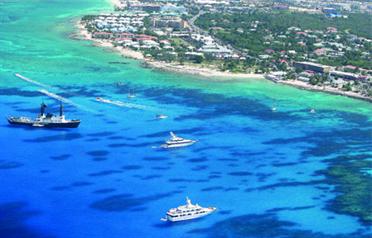 Anyone looking to invest in property in the Caribbean – but who wants to continue to enjoy the sort of tax-free environment they are are used to in the UAE – should look at the Cayman Islands.

A leading real estate broker says the property market on the paradise island is maturing and currently offers net returns of up to 18 per cent.

And the market is about to become stronger than ever before, says Kim Lund, founder and owner of Re/Max Cayman Islands.

"The Caymans offer tremendous value for your investment and our prices are extremely reasonable when compared with the few other islands in the Caribbean and Atlantic with a similar standard of living," he says.

"This is due to the fact that our values did not run up during the past few years due to external forces that held them down." The Caymans, a British overseas territory and leading financial centre, offer a high standard of living, boosted by tourism and banking sectors.

However, despite year-round sunshine, the Caymans suffer more from hurricanes than their neighbours, with on average of one every two-and-half years either brushing the islands' coastlines or hitting them directly.

And it is these hurricanes coupled with other international disasters that have held the market back in the past few years.

"Factors that affected the market included the September 11 terror attacks on the US, a mild recession and the Gulf War," says Lund. "Then finally in 2004, as our market and capital appreciation were starting to grow, we were hit by an extremely strong hurricane, Ivan, which put the brakes on our market.

"In 2008, we had recovered fully and were starting to see good capital appreciation, but the global financial crisis has again given us pause."

But Lund believes the crisis will not affect the Caymans as badly as the US as the properties on offer are high-end and exclusive.

"Fortunately we are stable, but we are still feeling the effects of this crisis due to our proximity to and reliance on the US for tourism and investment. We still have strong growth and development as our market tends to be more upscale and less affected by the crisis."

Other benefits for buyers include the absence of restrictions on foreign ownership or the repatriation of funds, and there is no direct taxation.

"If you make a gain on the sale of a property there is no tax on that gain. We have no income tax, capital gains tax, property tax, inheritance tax or sales tax.

"Additionally, we are probably about 50 per cent behind the curve in terms of price appreciation when compared with other resort markets.

"Over the next five to 10 years, our market is poised to make strong gains because capital appreciation has been held back and also due to the strong growth we are experiencing in development and tourism."

Development in the Caymans focuses primarily on the tourism and banking sectors. Development only began in the late 1970s so there are no historic sites like the fortresses and other century-old buildings found on the islands of Puerto Rico or the Dominican Republic.

"Almost all our development has occurred in the past 30 to 40 years but it is accelerating much more quickly than ever before.

"The new development consists primarily of financial buildings, beachfront hotels and condominium complexes as well as commercial buildings such as retail stores and shopping centres to service tourists and the resident population."

Lund's company has operated on the three islands for 18 years and specialises in working with overseas investors. It is a member of the Cayman Islands Real Estate Brokers' Association.

Property prices start at around $200,000 (Dh736,000) for a one- or two-bedroom beach condominium and go all the way up to $25m for a six-bedroom residence at the Ritz-Carlton. And with average returns of eight to 12 per cent buyers can expect their new property to be a sound investment.

"These good, strong returns are not difficult to find in our current market," said Lund. "We are known for a strong, steady real estate market that provides solid returns over the long term."

Residency is easy to obtain with a work permit or through independent means, and the real estate market is expanding. "Over the next five to 10 years the growth of our tourism and development sectors, as well as our local population growth, should make the market stronger than ever."

A spokesman for the Cayman Islands Investment Bureau, established to attract greater inwards investment, said: "There are no legal restrictions on property ownership by foreigners in cases where the property is for personal use, although real estate ownership for business purposes is subject to licensing.

"Title to all Cayman Islands real estate can be held by individuals – either alone or with others jointly or as proprietors in common – or in the name of a company. However, in the latter case, appropriate company type must be registered with the Registrar of Companies and must be in good standing."


On the market

BRITANNIA HOUSE 
Family home, 6,560 sq ft $2.5m

This desirable property comes with six bedrooms and bathrooms and sits on 0.3 acres of land with its own private pool. It is located at the end of a cul-de-sac with part-views across a golf course. Has marble and granite finishes and custom wood cabinets. Price has recently been reduced by $400,000 for quick sale.

WATER'S EDGE 
Condominium, 3,140 sq ft $3.2m

This beachfront top-floor condominium comes with its own pool and stunning views along Seven Mile Beach and Northwest Point. Quality finishes include wood trims and mouldings and marble tile floors for the discerning buyer. Also included are high-end home appliances throughout the property. The property includes four bedrooms and three bathrooms plus an ocean-front pool, air-conditioned fitness centre, underground parking and hurricane-proof windows and doors.
Follow Emirates 24|7 on Google News.