Get away from it all on Goa's beaches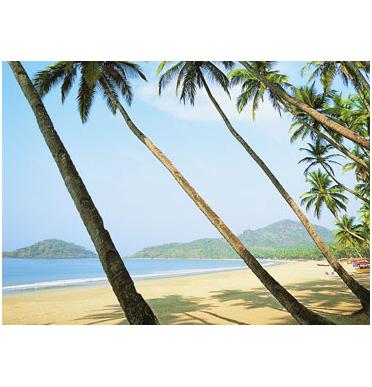 Palm trees rustle in the breeze just beyond Goa's Dabolim International Airport. Inside, holidaymakers reclaim their baggage and haggle for taxis, most of which will be speeding north to the well-established resorts of Calangute, Baga and Candolim, once hippy hangouts but these days the domain of karaoke, concrete and coconut tanning oil.  Those in the know, however, take in the air tinged with incense, car fumes and cooking, before heading south to the impeccable, lesser-known beaches perched on the tiny Indian state of Goa's southern tip.
 Goa has never been a more accessible destination than now. Three hours from Dubai to Mumbai, followed by an hour's flight south, serviced by a number of internal airlines, will get you within a two-hour creaking Ambassador taxi ride of some of India's most postcard-perfect, palm-fringed beaches. Still largely free from mass development, the seaside destinations of Palolem, Patnem, Agonda and Rajbag will have you sighing into your sunset cocktail and reaching for your yoga mat before you can say "shanti".
 Long established among all of Goa's southern gems, Palolem's white sand crescent beach has been attracting tourists since the 1970s, though recent years have seen more and more ramshackle beach huts and restaurants springing up along its crystalline shore. Most accommodation is rudimentary: bamboo beach huts equipped with little more than a simple bathroom, a mosquito net and a hammock for lazing can be had for a small fistful of dollars, though several outfits are slowly beginning to cater to those who require a little more in terms of barefoot luxury.
 The food, meanwhile, is spectacular. As night falls and the holy cows who have wandered to the beach to watch the sunset retreat homeward for the night, strings of fairy lights twinkle all along the coast. Fish restaurants haul out the latest tempting catch for a tandoori barbecue beneath the stars, while vegetarians revel in cuisine ranging from local, through Thai, Tibetan and Mexican, to a hearty rendition of spaghetti puttanesca at the Italian-owned Magic Italy on the village's dusty main street.
 Palolem is also a draw for those looking to rebalance their vital energies. With a plethora of yoga classes from dawn until dusk, Ayurvedic massage available everywhere you can swing a green coconut, and plenty of opportunity to detox, Tai Chi, tribal drum or belly-dance the days away, there's a laid-back vibe to suit every visitor.

One of the best places to bliss out is Bhakti Kutir, a complex of huts and cabanas tucked away at the southern end of Palolem's beach. Here, an organic kitchen complements open-air yoga sessions; simple bungalows decorated with antique furniture are hidden beneath a thick forest canopy, wheatgrass juice and chilled white beverages are both on the menu, depending on your state of saintliness.
 Travelling one beach further south from Palolem, you'll reach Patnem, a wider, less developed stretch of sand, where visitors are less likely to be pounced on by the itinerant trinket-selling women and local boat ride touts who ply Palolem beach. Here, your companions are more likely to be the troops of friendly, well-fed stray dogs that keep you and your beach towel company by day, then howl the night away in response to the frequent, impromptu firework displays set off by late-night revellers.
 At Patnem, the sea may be a little less tranquil than its neighbour, but the atmosphere is decidedly more so; there's little to do save brave the surf, watch tiny crabs scuttle in and out of holes in the sand, and retreat regularly to one of the beach's numerous outdoor cafés for refreshment. The newly opened Home restaurant serves a mean slice of banoffee pie with your cup of imported Lavazza coffee; older food joints further along the beach offer banana-honey pancakes and slabs of chocolate cake to accompany little cups of fragrant India chai (tea).
 Here, one of the most picturesque accommodation options is Goyam, a pastel-shaded collection of small villas, dropped like a miniature Wisteria Lane halfway along the beach, each tiny house sporting its own veranda for lazing the afternoons away, with powdery white sands stretching just a metre or so from your front door.
 If, however, it is pliant mattresses and goose-down pillows you crave, it is best to venture just one beach further south, to Rajbag, where the plush Intercontinental Grand Resort offers every luxury the discerning traveller might require. A vast complex of swimming pools and buildings nestled along the tree line, it retains low-key intimacy but adds in hot water, fluffy towels and tempting little pots of bubble bath, luxuries scarce at the other beaches in the area.
 With jet-skis, kayaks and other watersports facilities on hire, there is also something to occupy the more active sybarite, though those content to do nothing will find little to distract them from the serious business of unwinding.
 One last, and relatively unexplored, option for a south Goan bliss-out is Agonda beach, just a few kilometres north by auto-rickshaw from Palolem. Here, the few simple beach hut operations play home to a quieter, more peace-seeking brand of visitor; the broad white sand beach is frequently deserted. Head straight to the simple Sandy Feet restaurant when hunger strikes, to sample its locally legendary plates of steaming Tibetan momo dumplings, just the thing after a long walk collecting shells and exploring rock pools.
 Here in Agonda, as the sun sets over the shimmering Indian Ocean and bats begin to swoop through the palms overhead, you may be only a few dozen kilometres from the rush and hustle of some of Goa's most notorious holiday hotspots, but basking in the intense tranquillity of a perfect south Goan evening. You might as well be a world away.
 The Essentials
 STAY AT:
 Bhakti Kutir, Palolem: www.bhaktikutir.com; +91 832 264 3469/264 3472; double huts from around Rs2,000 (Dh183) per night.
 Goyam, Patnem: www.goyam.net; +91 9822 685138; double huts from Rs1,500 (Dh137) 
Intercontinental Grand Resort, Rajbag: www.ichotelsgroup.com;+91 832 266 7777; Rooms from Dh1,406.
 FLIGHTS:
 Emirates (www.fly.emirates.com) fly four times a day from Dubai to Mumbai where there are connecting flights to Goa. Prices start at Dh1,410. 
Kingfisher (www.flykingfisher.com) flies every day from Mumbai to Goa. Prices start at Dh697.
 MUST EAT:
 An Indian breakfast of idli (spicy rice pancakes) with chai; an organic salad for lunch and a tandoori paneer kebabs – infused with coconut and aromatic Goan spices – for dinner.
 MUST SEE:
 The sand, the surf, the snorkelling – and the lazy, state capital Panjim, if you can tear yourself away from the beach.
 GO IN:
 Peak season runs from November to March, depending on the monsoon. The Christmas and New Year period is busy.
 DON'T LEAVE WITHOUT:
 Your yoga mat, sunhat, and that book you've been wanting to read.
Follow Emirates 24|7 on Google News.