Global ad campaign, DSF raise hotel occupancy levels in Dubai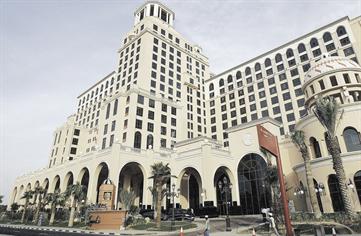 Hotels in Dubai experienced their highest levels of occupancy for over a year this February and forward bookings for next month indicate more positive figures, hospitality leaders told Emirates Business.

Yields, however, remain depressed ranging between three and 20 per cent down depending on hotel category. A weekly industry report used as comparative analysis by 18 leading hotels revealed occupancies between 95 and 100 per cent for the week February 14 to 20. Hotels in this list include Shangri-La, Emirates Towers, Jumeirah Beach Hotel, Madinat Jumeirah, Grosvenor House, Raffles and Kempinski.

Regional holidays, the ongoing Dubai Shopping Festival and exhibitions such as Gulfood helped spike occupancies this month.

Top hotel managers this newspaper spoke to say the biggest push had come from a global advertising campaign Dubai launched during the last quarter of 2009.

"February has been a very good month. We exceeded the budgeted figures for the month on February 20. So we have seven more days to go. The beginning of the month was a bit slow but from February 10 the pick up was very good. We have exceeded last year's occupancy figures by three to four percentage points," said Nasser Fawzi, Director, Sales and Marketing, Kempinski Hotel.

The hotel located within the Mall of the Emirates reported 77 per cent occupancy in February 2009 and is expected to hit 81 per cent this year.

"The GCC holidays which started in Saudi Arabia followed by Qatar and Kuwait pushed Dubai's figures up. So did the shopping festival. For us, internal promotions helped bring in early bookings too. Yield improved last week as we had a 100 per cent occupancy so we sold all the higher categories which helped generate a better revenue per available room," said Fawzi.

Kempinski Hotel reported occupancy levels of 67 per cent in December 2009 and 64 per cent this January. In contrast, February has grown 15 per cent.

Peter Alatsas, General Manager of the Le Meridien Mina Seyahi and The Westin Mina Seyahi complex confirmed that February was a better month.

"The trend is moving upwards and forwards, gradually not dramatically. We have the Boat Show and selective special events that sometimes create an extraordinary demand. From a business stand point we're somewhat busier than we used to be but making less money," said Alatsas.

"On an average, we are looking at between eight and 10 per cent growth on last year's results in terms of volume but the yield is between 15 to 20 per cent less.

"In my assessment, lower yields will last for anywhere between a year and a half to two years. December and January were reasonably good. February was slightly up on them and March is looking slightly better than this month. So it is moving forwards," he said.

A recent move by Dubai Tourism and Commerce Marketing (DTCM) to reposition Dubai so people rebuild trust in its market was a well-timed shot in the arm for the industry, said Pasquale Baiguera, General Manager of Radisson Blu in Dubai Media City. This combined with a general return of confidence and more stability in global markets has also helped grow numbers, he said.

"We are experiencing a very good month. Several events have positively impacted the market. Tennis, Gulfood, shopping festival… everything helps. Corporate international confidence is coming back worldwide; there is a belief that things are more stable. Overall we have seen an increase in occupancy in all segments including business travel. Dubai has been doing a lot of international media campaigns and that has also contributed," said Baiguera.

Commenting on whether increased demand was pushing rates upwards, Baiguera said: "In general hotel rates behave like airlines, according to supply and demand. I would not say there has been a huge increase in rates. The most positive fact is coming from the occupancy."

Samir Daqqaq, Senior Vice-President, Development-Mena, of the €9.2 billion (Dh46.34bn) Oetker Hotel Collection (OHC) said: "Yes, some hotels have increased their rates and this can directly be linked to leisure travel in the area. Occupancy too has been around 90 per cent in the past two weeks but I would not be able to comment whether this is a sustainable phenomenon or not."

On Sunday, CB Richard Ellis reported that hotel room rates in Dubai were unlikely to improve till 2011 or even 2012. Asked why some hotels have increased their room rates presently, Arnaud Andrieu, Vice-President CBRE, Middle East, Hotels said: "Our analysis is for a whole year. The increase in the room rates [currently] is a temporary phenomenon, which is a result of some functions in the city. These rates may not be sustainable in the long run."

A surge in demand has also helped new hotels enjoy unexpected volumes.

Darroch Crawford, Managing Director, Premier Inn Mena confirmed that the newly opened Premier Inn near Dubai Airport has seen occupancy that was "better than expectations".

"There have been a lot of programmes and functions that have been planned, this has resulted in higher occupancy," he said.

Hotels are hoping to see a marginal increase from February's figure in March and are hopeful of better first quarter financial results than 2009.

"Over all, yield is down three to four per cent on last year. Our average room rates are down by approximately Dh100. If we do a good March we will have a much better quarter over all to last year," said Kempinski's Fawzi.

"In March, beach hotels will do well because of the Russian holidays at the end of the month. The World Cup at Meydan will be a good period for Dubai."

Looking beyond the first quarter, Radisson's Baiguera felt the market was still quite unpredictable.

"After Ramadan, we have experienced a positive trend. But it is difficult to estimate if it will last," he said. "It should remain relatively positive till summer and then we will see. It is very difficult to do long term predictions because many things are still volatile. New hotels will also come into the market.
Keep up with the latest business news from the region with the Emirates Business 24|7 daily newsletter. To subscribe to the newsletter, please click here.
Follow Emirates 24|7 on Google News.