Habtoor plans to acquire five-star hotels in Europe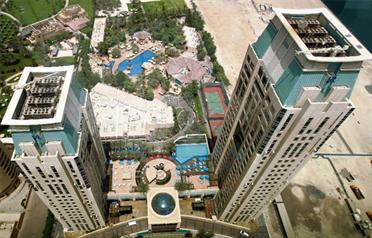 Dubai-based Habtoor Group, which bought into Barclays in 2008, has asked Rothschild to identify five-star hotel targets in Europe, its chairman said yesterday, taking advantage of lower prices in the wake of the financial crisis.

The conglomerate is also aiming to win up to $8.2 billion (Dh30bn) worth of building contracts in 2010 with Australia's Leighton Holdings.

Habtoor, which owns hotels in the UAE, was one of several Middle East investors that bought into Barclays in 2008 as the lender looked to boost its capital to weather the financial crisis.

"We talked with Rothschild bank... about investment in Europe and especially in London and Paris for hotels if there is anything they can find so they are looking for us," Khalaf Al Habtoor said.

Habtoor added the group was also looking at companies who want to sell their assets due to a lack of financial liquidity.

Habtoor said in August the group had about $1.3bn to invest in Europe.

The group has a joint venture with Leighton and has said it may float its engineering unit or the entire group in the third quarter of 2010, with possible listings in Dubai and London.

The construction firm is working on about Dh27bn of projects in the UAE at present and expects to bid on about Dh40bn worth of projects in Abu Dhabi alone this year, Habtoor said.

"We are expecting this year that we have to grab a minimum of Dh25-30bn in projects," Habtoor said. The company is eyeing airport project contracts in several countries, Habtoor said.

In Turkmenistan, it is bidding for a $1.5bn project, and has signed a preliminary agreement to build the first phase, in excess of $500 million, of a Kuwait airport.

He added the company expected to win new projects in the UAE, including an airport, and hospitals in Dubai and Abu Dhabi.

"We are bidding for the airport in Abu Dhabi which is in excess of $6.5bn," he said. The group is a holding company for business ranging from construction, hospitality, automotive, real estate, education, and others, run by Habtoor, who is reputedly worth $1.1bn according to the 2009 Forbes billionaire's list. Habtoor, who owns and operates around seven luxury hotels in the UAE and Lebanon, saw full occupancies for its hotels in the beginning of January.

He said the company was "testing the waters" for two new hospitality projects in Dubai and expects to make a decision in the fourth quarter of 2010 or beginning of 2011. The projects will include a mixed-use Dh3.5bn cluster and an Dh800m hotel on The Palm.

The company also expects to boost its presence in Qatar as it looks to diversify revenues away from its home market. "Qatar is becoming to us the second for construction after the UAE," Habtoor said.

In 2010, Habtoor said he expects his group to achieve a growth of 103 per cent in net profit. He declined to give precise figures.

The company's turnover in the first half of 2009 exceeded Dh9bn.
Keep up with the latest business news from the region with the Emirates Business 24|7 daily newsletter. To subscribe to the newsletter, please click here.
Follow Emirates 24|7 on Google News.