Hotel occupancies up by 10% in first week of DSF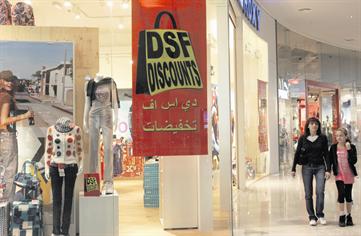 More than one week into the annual shopping extravaganza, Dubai hotels and shopping malls have registered higher occupancies and footfalls for the Dubai Shopping Festival than the previous years, according to a top DSF official.

Occupancies at Dubai hotels and shopping expenditure have risen since the start of the DSF than before it, said DSF Chief Executive Laila Suhail.

Anke Glaessing, Executive Assistant Manager of Al Murooj Rotana Hotel & Suites, said: "The first week of DSF had a rather good effect, we have witnessed a 10 per cent increase in hotel occupancy, raising the room occupancy up to 81 per cent."

"With about 60 per cent discounts on our rooms and up to 20 per cent discounts in our top-tier restaurants, we are very optimistic about the coming weeks," she said.

The increase in room occupancy is the result of the promos in source markets, conferences and the shopping promotions organised by DSF this year, the DSF office said yesterday in a statement.

Tom Meyr, Regional General Manager for InterContinental Hotel Projects in Dubai Festival City, said: "It's a busy season, and the great shopping and hotels promotions just made it busier in the past week. Several big conferences are coming up and occupancy will increase considerably compared to the pre-DSF period."

The third quarter of 2008 saw a drop in occupancies in Dubai, as in other parts of the world, because of the credit crunch and the resulting decline in business travel.
Follow Emirates 24|7 on Google News.