Hotels 'must sustain revenues' instead of cutting costs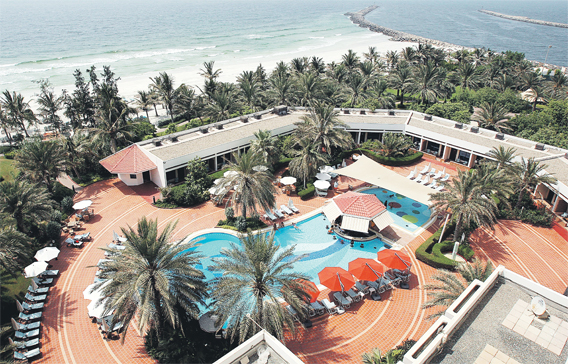 It is anyone's guess that last year has gone into the books as one of the worst for the hotel industry with revenue per available room (RevPAR) – an industry benchmark – practically collapsing as travellers stayed away.
In a market such as the Middle East, while most cost reduction strategies have already implemented, now is the time to focus on maintaining revenues, said an industry expert.
Despite slow signs of recovery across the region, Dubai and Abu Dhabi markets will experience further declines in RevPAR in 2010, according to Paul Arnold, Principal and Head of Transaction Real Estate Advisory Services Group – Middle East and Africa, Ernst & Young – a global consultancy.
"Those markets which were able to maintain their rate integrity in 2009 and have limited supply entering the market in 2010 will be the fastest to recover and achieve positive RevPAR growth in 2010. These markets are expected to include Beirut, Jeddah, Amman and Makkah," he told Emirates Business.
For hoteliers across the region, cost containment initiatives coupled with maintaining rate while still offering value for money will be the key focus in 2010, according to E&Y analysis.
Meanwhile, 2009 was an extremely challenging year for the Middle East, which registered an average decline in RevPAR of about 15-20 per cent compared with 2008, according to E&Y research.
The E&Y Hotel Benchmark Survey for January-December 2009 reveals that individual markets within the region were impacted differently with some exceptions. Beirut, for example, achieved an increase in RevPAR of more than 90 per cent, while Jeddah witnessed growth in RevPAR of about seven per cent driven by strong increases in corporate demand coupled with limited supply.
Dubai, on the other hand, achieved the most significant decline in performance across the region, marked by about 33 per cent reduction in RevPAR last year over 2008. RevPAR in Dubai hotels dropped from $256 (Dh940) in 2008 to $170 in 2009. Average room rates also witnessed the largest decline in the region of 25 per cent – from $310 in 2008 to $232 last year.
The belt-tightening
Corporate belt-tightening, leisure travellers seeking discounted packages and booking at the last minute, as well as new supply additions resulted in significant downward pressure on occupancy and average room rates in Dubai during 2009, according to Arnold.
"2010 will be equally challenging as more supply enters the market, and further declines in RevPAR are expected," he warns.
A greater focus on offering additional value-added services within the room rate (instead of simply dropping rates) is one way to weather the storm, said Arnold, citing examples including complimentary airport transfers, breakfast, internet, etc. "In addition, hoteliers should also explore alternative source markets, such as China, given that demand from Dubai's traditional source markets has dried up," he said.
Further warning of challenges in 2010 for Dubai hoteliers, Arnold said: "For those hotel owners whose capital structure does not match the financial and operational needs of the business, now is the time for them to review and possibly renegotiate covenants as well as develop an appropriate financial platform that meets cash requirements.
"And for those owners of existing hotels who may not have liquidity challenges, now is also a good time to renovate and reposition their products. This will prove invaluable towards strengthening their competitive posture once new supply enters the market and demand begins to recover."
Furthermore, the composition of hotel room inventory is changing in Dubai, as it begins to witness more regionally and internationally branded economy and midscale products entering the market, according to Arnold. "Therefore, Dubai [on a city-wide average basis] is not likely to witness a return to peak average room rate levels that were achieved in early 2008 in the short to medium term [if we exclude the effect of inflation], due to the much needed branded economy and midscale supply additions entering the market."
He added that a further rate correction in the upscale and luxury segments as a result of a significant influx of new upscale and luxury room supply will also reduce rates to more reasonable levels for this market.
Abu Dhabi hotels on the other hand saw average room rates being the highest in the region at $306 in 2009. "While Abu Dhabi is also anticipated to witness a correction in average room rate in the short to medium term due to supply pressures, its current inventory and future pipeline are more concentrated in the upscale and luxury segments," said Arnold, adding: "With more supply entering the market in 2010, hoteliers in Abu Dhabi will strive to maintain rate integrity, albeit at the expense of occupancies. It is expected that the Abu Dhabi market will witness a decline in occupancy of about five to 10 per cent in 2010."
Dubai's proposed supply pipeline, meanwhile, remains a key concern as it is anticipated to substantially increase by 26 per cent in 2010 and further increase by 19 per cent in 2011, said E&Y's 2010 outlook report.
After taking into account the hotel projects which have been announced as cancelled or put on hold, it is anticipated that Dubai will still have an "additional 37,500 rooms by 2013", the report said.
In Dubai, there may be potential opportunities for investors to acquire under-construction or operating assets at attractive rates in 2010.
For hoteliers across the region, cost containment initiatives coupled with maintaining (and in some cases rebuilding) rate, while still offering value for money, will be the key focus this year, as per the E&Y outlook for 2010. It further states that overall Saudi Arabia, Libya and Iraq still offer significant development opportunities due to strong underlying fundamentals in each country and limited product.
Opportunistic funds [that have a direct investment in real estate] which have allocated a percentage of their total investments to emerging markets, are predicted to invest in three- and five-star hotel properties in the GCC.
Amine Hamdani, Vice-President, Fund Advisory and Indirect Investment, CBRE Hotels, told Emirates Business earlier: "These hotel properties present very good investment opportunities as the average room rates (ARRs) and the cash flows are still good… There is more demand from foreign and GCC buyers to acquire hotels in Dubai and the GCC.
"They are looking for investment opportunities here and there are some aggressive buyers. There are high net worth individuals, institutions as well as opportunistic funds, both European and Asian that have allocated a percentage of their total investment to emerging markets," he said.
Ahmed Ramdan, CEO, Roya International, a consultancy and services firm in the hospitality sector, said: "Investors who were not even considering deals in the region until some time back are now exploring,"
Macro transactions
Globally, the hospitality industry is also predicted to regain some lost ground, with RevPAR decline expected to slow its downward spiral by four per cent according to a Smith Travel Research (STR) forecast for 2010, which recorded a 16.7 per cent drop in RevPAR last year.
Occupancy levels and the average daily tate (ADR) are also expected to rally this year, with STR forecasting a 0.6 per cent decrease in the former, compared to 2009's 8.7 per cent drop.
Meanwhile, the ADR decline is forecasted at 3.4 per cent, compared to last year's 8.8 per cent.
However, even as global demand witnesses this upward momentum, new challenges will continue to face the hospitality industry according to the E&Y report, at the forefront being a renewed appetite for acquisitions, but a deluge of distressed assets.
Similar to past cycles, analysts predict investors are keen to take advantage of the distressed assets that come on the market through acquisitions at discounted prices. Sources theorise that hotel acquisitions may become more prominent in the next few years since investors and owners may find existing hotels to be "safer" investments compared with new developments.
Yet Q4 2009 saw global hotel sales totalling about $2.2 billion, a 44 per cent decline from the same period last year. In 2009, global average saw $12bn in hotel assets being traded, with Europe leading the trend with 316 deals, valued at $5,9bn, followed by North America with 90 deals and $2.1bn worth of transactions and Asia, with $1.9bn worth of transactions and 35 deals.
However, analysts predict this trend will see a change with emerging markets such as Asia and the Middle East leading this turnaround.
Although the current transaction market is still at a low, and the gap between buyer and seller pricing expectations still prevalent, market consensus is that the pace and volume of hotel acquisitions are expected to pick up in 2010. According to Jones Lang LaSalle Hotels' Hotel Investment Outlook 2010, global hotel transaction volume is expected to jump 20 per cent to 40 per cent in 2010. The anticipated volume increase would be the first seen in two years.
Capital crunch
The economic recession and a dysfunctional credit market, including the absence of commercial mortgage-backed securities (CMBS) debt, have had a profound impact on the hospitality industry in the form of postponed, stalled or cancelled projects, a slowdown in hotel transactions and an increase in loan defaults.
This capital crunch saw hotel corporations raising core capital by devaluing property or launching an IPO. Last year saw hospitality juggernauts such as Hyatt Hotels make headline with its IPO that raised $950 million in November 2009. The group even caught the interest of the Abu Dhabi Investment Authority (Adia) which acquired a 10.9 per cent stake in Class A shares of Pritzker family's corporation, headquartered in Chicago.
The E&Y report predicts this trend is likely to continue in 2010 given the advantages associated with operating a publicly traded company in the current environment. Real estate IPOs are also expected to continue until commercial real estate values recover.
Arnaud Andrieu, Vice President Investment and Advisory at CB Richard Ellis Middle East, told Emirates Business earlier: "In 2010, operators will face attractive distressed opportunities and would be able, for the one with enough liquidity on their balance sheet such as Hyatt post its IPO, to capitalise again in real estate on a long-term basis. "Therefore, this is the right moment to take long-term positions in lodging stocks to anticipate market capitalisation growths as this sector has good reasons to rise further."
New marketing mantra
Hotel corporations are finding creative ways every day to enhance revenues and cut costs in a struggling market and position themselves for future growth.
Leading initiatives adopted by the global hospitality industry include grass roots marketing and social networking, and group and business travel flexibility to reach new customers and reinforce their brand.
In the UAE, leading the wave are brands such as IHG, with the InterConDFC handle on Twitter offering regular updates on deals, meals and competitions.
One industry analyst said: "The next few years will continue to be challenging for the hospitality industry as a whole, so if you're not bang on the buck with your restructuring, rebranding, expanding and liquidity agenda for the next few years, your economic recovery will be poor at best."
Follow Emirates 24|7 on Google News.