Hotels step up cost cutting to keep bottom lines healthy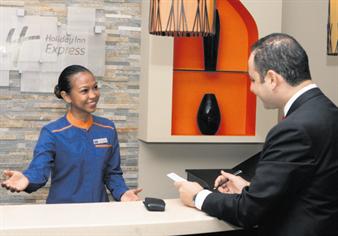 Many hotel companies in the Middle East have resorted to cost cutting in the face of the global economic meltdown in an effort to keep their bottom lines healthy.

Hotels in the region have cut on advertising and marketing budgets, reduced travel expenses, become energy efficient, rationalised on manpower, stalled refurbishment and other capital expenditure scheduled for this year, hospitality industry executives said.

For instance, The Rezidor Hotel Group, which has 17 hotels operating in the Middle East, has started a cost cutting programme. "The target for cost cutting in the Middle East was €8.5 million [Dh40m]," Marko Hytonen, Area Vice President, The Rezidor Hotel Group, told Emirates Business.

Michel Noblet, CEO, Hospitality Management Holdings, which manages Coral Hotels & Resorts, said: "We have slashed our advertising and marketing budget. This will help us cut down on unnecessary clutter in [marketing] collaterals. We are also reducing expenses on business trips of employees."

Those who have gone in for cutbacks have shifted a major portion of their marketing online. Daniel Hajjar, CEO, Layia Hospitality, said: "We have invested heavily into back office technology. In a very short time, more than 50 per cent of the total market would be online and 50 per cent of marketing expenditure would be on online. There is no saving at the moment, the saving will come in later." He said they are concentrating more on e-marketing.

Giles Nicolas, Manager, Holiday Inn Dubai, pointed out that the big expenses for hotels are salaries and benefits, laundry and energy.

Hala Matar Choufany, Managing Director, HVS Global Hospitality Services, said, "Many of the operators in town specifically has made employees redundant hence saving. Employee costs typically accounts for 60 per cent of the total room/food and beverage cost."

She said, "This will certainly help the bottom line; however, it is hard to say by how much as there may be other internal measures that we wont be typically aware of."

In February, a luxury hotel sacked 70 employees while a Jumeriah spokesperson said, "The company's plan to implement a restructuring process at group and corporate levels, is expected to be an impact on staff numbers."

The other ways adopted by hotels to cut labour costs are hiring freeze, cut in perks, reduction in bonus, cut in basic salaries, unpaid leave and of course, redundancy, industry sources said.

Noblet said, "The biggest challenge faced by our industry today is to find and retain well-trained staff. It would be a pity to lose good workers to difficult market situation. So far we did not have to take any such drastic measures but we did encourage staff to make use of their unutilised leave."

Some of the hotels have redeployed staff to projects coming online this year, or to other departments like sales. Nicolas said, "Yes, we did rationalise by looking at staff levels and productivity of each department. In some cases we reduced the number of staff but in other cases we increased the manpower to either increase the level of service as well as our presence on the market. Our staff have understood why bonuses have been curtailed, but they have been compensated by other incentives"

Amid the cost cutting, the companies are ensuring to maintain a certain level of service. Noblet said, "Despite the challenges posed by recession, we believe in maintaining high standards in service across all Coral Hotels & Resorts. We do not wish to compromise on the quality of products or the level of service. At a five-star level the amenities or facilities remain more or less the same. However, what differentiates one hotel from the other is the quality of service. And you can maintain that only by investing in training your staff. We at Coral Hotels and Resorts ensure regular training of staff by internationally acclaimed experts.

Though hotels in other markets have cut back on guest amenities, according to newspaper reports, hotels in the Middle East are yet to do so. Anke Glaessing, Executive Assistant Manager, All Murooj Rotana, said: "We do not want to save a few dirhams a day by negatively impacting the guest satisfaction by reducing some operating expense in the short or eliminating services or amenities."

The executives said guests, both executive and corporate, expect a certain level of service and amenities. Most corporate travellers insist on internet connectivity.

Glaessing said, "As we are keen to attract the business travellers, we are currently implementing internet in the rooms. While not cutting back on amenities, the executives said, other measures have been put in place.

"We have not cut back on the amenities as they are a Holiday Inn standard, but we are looking at using environmental friendly alternatives in the paper we print on and reminding guests on the unnecessary use of water in the rooms or suggesting less frequent laundering of linen," Nicolas said adding, "We plan to save up to 50 per cent on amenities like soap, shampoo by trying out large dispensers rather then small bottles."

One area, in which almost all the hotels in the region are concentrating on, is cutting energy costs.

Hajjar said, "One main area which has to be addressed is energy. It is a very heavy expense and any saving you do, will go direct to the bottom line."

In the effort to become energy efficient, many of the hotels have gone in for a "vigorous" preventive maintenance programme. Nicolas said, "The hotel has gone in for preventive maintenance to fix all bed rooms with energy saving bulbs and devices to control air conditioning."

He said, "We have lighting on timers in less frequently used areas and a drive to switch off computers in offices as a must."

Hotels are also looking at economising in the kitchen. without compromising the quality of the food. One of the ways to keep kitchen cost down is avoiding wastage, hotel managers said.
Follow Emirates 24|7 on Google News.