Hungry for success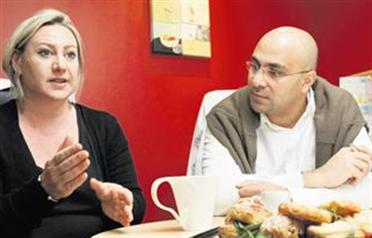 The desire for a decent sandwich was the catalyst for Suzi Croft and Manar Al Jayouchi to open their own catering business. The couple, who have been together for 10 years, saw a gap in the market and so gave up their jobs in admin and sales and marketing to start Appetite Catering LLC with savings of Dh350,000.

Three-and-a-half years on, the company has grown from two staff to 85, moved into premises seven times the size of their original 800sq ft warehouse in Al Qusais and last month was named Lloyds TSB Small Business of the Year, for which it claimed the Dh50,000 prize that was subsequently split between all employees.

Al Joyouchi says: "We promised the team a Christmas bonus if we won so we shared it out pro rata as we wanted to reward the people who had been with us the longest.

"We felt we were doing well but didn't know how far we were progressing so when we won the award we knew we must be doing something right."

From quite humble – and financially difficult – beginnings Appetite is now thriving. From the husband and wife team's initial start-up budget, they had just Dh40,000 left once the kitchen and offices were fully equipped, they were in a position to start production. The duo thought that investment would last a few months as they drew business in but within five days the pot was empty.

"We're not trained chefs just born and bred foodies who love good food," says Briton Croft, 42.

"We weren't experts in the industry, we just went with our gut feeling and always chose high quality produce because we don't want to cut costs."

It took the company two-and-a-half years just to break even and even though they are now turning a profit, they admit their books are still not as healthy as they should be.

"We are at an eight to 10 per cent profit rate when we should be at 33 per cent but hopefully in time we will get better. We are not the cheapest on the shelf but we don't want to use the cheapest ingredients so we choose quality over cost," says Al Jayouchi, 38, of the produce they source locally wherever possible.

But despite this, the couple, who live in Mirdif, still have big plans for the firm, which include opening their own shops later this year, similar in style to UK chain Pret A Manger – where customers can dine in or take away ready-made sandwiches and salads.

Although they are reluctant to divulge specific locations, they do reveal they will be in the main business districts.

"There are enough coffee shops already so while we will serve it, it will be secondary to the food. We will have a niche market as we can't compete with the likes of Starbucks and Costa but we want a high quality product people can just grab off the shelf. We're not a company rolling in money so the first shop has to be right," says Croft.

Her husband adds: "It's the natural evolution of the brand. It's been established for a reasonable time but it takes a while to find the right location because if you choose the wrong one you won't succeed. We don't want to be in a food court as we don't want to compete with fast food. We cater to people who want a fresh and healthy sandwich."

While they are now able to take Fridays off – unless there is an event such as last Friday's Dubai Marathon to cater for – the couple had to put in three years of seven-day weeks to turn Appetite into the thriving business it is today, which has not been easy on their children, five-year-old Lana and Jad, 15 months.

The company's first big deal was with petrol stations Enoc and Eppco. But it was a slow start.

"When we first went to them with the products three and a half years ago, they said they were too expensive," recalls Al Jayouchi of the Dh10 and Dh12 sandwiches. "Most of the other products they sold cost Dh4 or Dh5 so they didn't think it would work but it ended up being the best launch they'd had in the fresh category and that gave us a boost."

They also struggled for the name around this time. They toyed with Gourmet House or Bagel House but decided the latter was too narrow because even though it was about "putting a decent sandwich on the shelf" they knew it would not end there.

Location has been a problem for Appetite in the past. When it became clear they would need bigger premises nothing they viewed seemed to fit their requirements, which included being on a main road for high visibility.

"Three agents showed us this place in Al Quoz and after the third visit we thought it must be meant to be but it didn't even have a roof so it took a few months to turn it into a working factory," says Croft.

On top of this, they also have their contract with Spinneys for which they provide a range of sandwiches, salads and juices on a daily basis, a corporate catering arm and direct sales to a number of firms across the city.

"Spinneys came in and was like the turbo effect. We're trying to balance everything but it's one of the most important contracts for us," says Al Jayouchi, who was born in Syria but has lived in the UAE for 16 years.

As the business evolved, the couple carved out different roles, with Croft coming up with the recipes and Al Jayouchi taking care of the finances. She has also completed food hygiene courses to help the business, yet the website is the one area still to be tackled. "It's difficult to find the time as something else always comes up," admits Croft.

Since the initial sandwich phase, the company has now branched out into main meals, jacket potatoes, cakes and fresh juices, which keeps the factory, whose head chef joined from the Burj Al Arab, operating 24 hours a day.

As the new year is the quietest month, business is starting to pick up again but they are bracing themselves for a slight downturn on last year.

"At the end of the day, everybody has to eat but we hope we won't be affected by the credit crisis. People might forego a five-star meal but the cost of buying a sandwich is not much more than it would be to make it yourself," says Croft.

"People are being made redundant so we might lose some of the corporate catering but we are in a fortunate position to have customers asking us to go to different places, where we don't have a presence due to limited sales people. It's a busy year but an exciting one as well."
Follow Emirates 24|7 on Google News.