Indian hotels' profits to dive on oversupply and low occupancy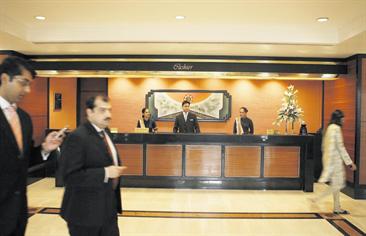 The demand for rooms in the premium segment of Indian hotels sector is expected to fall by 11 per cent in 2008-09 as compared to the previous year, with a further decline of 15.5 per cent expected in 2009-10, according to Crisil, one of India's leading rating, research, risk and policy advisory companies.

At the same time, premium segment room inventory is expected to collectively grow at a CAGR (compounded annual growth rate) of nine per cent from 2007-08 to 2011-12 across 12 major cities. Consequently, hotel occupancy rates are expected to show their steepest decline in a decade, reversing the trend of very high growth rates witnessed in these select destinations during the past few years, Crisil said.

The 12 destinations covered as part of Crisil Research's analysis include Agra, Ahmedabad, Bangalore, Chennai, Goa, Hyderabad, Jaipur, Kerala, Kolkata, Mumbai, NCR and Pune. The report said additional supply, combined with lower corporate travel expenditures in the slowing global and domestic economies, would result in a decline in occupancy rates. And occupancy rates are expected to come down from 72 per cent in 2007-08 to 62 per cent in 2008-09.

Sridhar Chandrasekhar, Head, Crisil Research, said: "We expect occupancy rates to further drop to 47 per cent in 2009-10 and hover around this rate in 2010-11. With occupancy rates falling, hoteliers are expected to lower average room rates (ARRs) to attract customers."

Crisil Research forecasts ARRs to fall by around 23 per cent in 2009-10 (from the levels of around INR9,200 or Dh692 in 2008-09) and decline further by around 18 per cent in 2010-11.

These trends would lead to revenue per available room (RevPARs) collectively declining by 20 per cent in 2008-09 and further by 42 per cent and 20 per cent in 2009-10 and 2010-11, respectively, creating severe profitability pressures.

Chandrasekar said: "Hotels in Gurgaon and Pune will be the most affected."

Room inventory in Gurgaon and Pune is projected to show the highest increases amongst the 12 cities with CAGR of 41 per cent and 35 per cent respectively during the period 2007-08 to 2011-12. These cities will also witness the steepest drop in RevPARs.

IT/ITeS dependant destinations like Bangalore and Hyderabad are also expected to be severely hit as IT companies rationalise travel expenses following the turmoil in the financial markets globally, according to Crisil.

According to the business advisory firm, Deloitte, cities across India continued to report some of the highest ARRs in the Asia-Pacific region last year attributed to the booming tourism industry. Delhi, for instance, took the top spot, as ARRs rose eight per cent year-to-November 2008 to $283.

Although occupancy fell slightly, it still achieved 73 per cent. Meanwhile, in the financial capital of Mumbai, ARRs were about $22 lower than in Delhi at $261 and reported more significant declines in occupancy of 12 per cent to 66 per cent.
Follow Emirates 24|7 on Google News.