Iraq hospitality sector seeks $145bn investment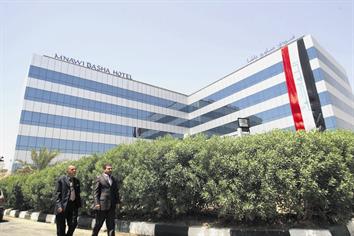 Iraq's hospitality sector could see an influx of $145 billion (Dh532.15bn) over the next five years, with an estimated 22 per cent of that investment originating from the UAE.

Iraq's government run National Investment Commission (NIC) revealed the figures to Emirates Business, adding that an amendment in the law will now also allow foreign ownership of land to attract more international hospitality clientele.

"NIC plans to draw $500bn into Iraq over the next five years, with 29 per cent of that attributed to the hospitality industry alone," said NIC's Dr Aifar Fahd, Manager, Economic Department. "We expect foreign investment from the UAE to account for nearly 22 per cent in this sector."

Brand power

Last week, Abu Dhabi investment company Noor Capital announced its plans to build a $100 million five-star hotel apartment project in Karbala, Iraq, with UK hospitality developer Range Hospitality. The project in the holy city, called The Range, is expected to be completed in 2013.

The UAE-based Rotana Hotels and Resorts group, along with Marriott and Kempinski are just some of the other high profile brands that have signed up or in the process of expanding their properties into Iraq.

While Rotana and Kempinski have already broken ground for four- and five-star properties in Kurdistan, Marriott's entry is also on the cards, which Fahd confirmed, saying: "We have already processed the paperwork for Marriott International. I'm sure an announcement should follow soon."

Last year, Marriott President and Managing Director of International Lodging Edward D Fuller told this newspaper the group's expansion into Iraq had been delayed, saying: "I looked in Iraq eight months ago. If I find the right site – which we did not – we would."

When quizzed if their plans had progressed further, Jeff Strachan, Vice-President Sales and Marketing, Middle East and Africa, Marriott Hotels International Limited said: "We have nothing concrete to add to Mr Fuller's statement right now."

Talking about their expansion into Iraq, Rotana's President and CEO, Selim El Zyr said: "The opportunity arose when we were approached to manage two new five-star projects, one in the city of Erbil, located in the Iraqi Kurdistan region and the other in Baghdad, located within the International Green Zone, which is the heavily guarded diplomatic/government area in central Baghdad.

"Based on our research and market study, we believed that these markets were emerging and saw them as an opportunity."

The group's 205-roomed Erbil Rotana, in partnership with Lebanon's Malia group, is set to open in the first quarter of 2010, confirmed El Zyr. The 250-room five-star Baghdad property is scheduled for an early 2012 opening, in partnership with Summit Hotel Limited.

First-mover advantage

While Rotana was not forthcoming about its investment into Iraq, El Zyr said that currently "there is a tremendous need for this market to be developed and I am sure that the opportunities will be grabbed by the brands that know the market".

Turkey-based Divan Hotels, which also recently announced plans to open a $90m five-star hotel in Northern Iraq in the first half of 2011, saw company chairman Sarp Turanlıgil stating: "We believe that an international-standard chain hotel such as Divan Erbil will meet an unserved need in this market and for that reason we resolved to make this investment."

In the last one year, Iraq's government has been aggressively campaigning to attract foreign investment into the country. The NIC has facilitated several deals in the oil and gas sectors, while it was reported that the UAE's non-oil trade with Iraq in 2008 alone was Dh11.3bn.

The Economist Intelligence Unit (EIU) has forecast the real gross domestic production growth of Iraq to rise to 6.2 per cent in 2010.

"Iraq as a country, emerging from a prolonged crisis, represents an opportunity, albeit with specific risk assessment profiles. While most reports cover incidents, it is also clear that business activities are ample in Iraq driven by the re-construction of the country, oil related development and an expected settlement of political and religious issues over time," said Sven Gade, Director and Head of Consulting at PKF Consulting House, business advisors to the hotel and property sectors.

Gade added: "Whether the country is a key market ripe for investment will be seen over the next few years. At the moment, it offers supply shortages and first mover advantages which have to be balanced with investment risks."

Gade further explained: "Rotana is a good example of this by opening first in Erbil – it is valid to consider Iraq as a market a good opportunity for expansion of regional brands.

"In future, Baghdad in particular will face a shortage of hotel accommodation. Currently, the city can barely offer 2,000 branded four- and five-star hotel rooms, which is very low supply for a city. Overall, the country features less than 800 hotels and it will need significant supply additions to move forward."

Corporate travel

Last month, a report by the Washington-based Dunia Frontier Consultants showed the UAE as for the biggest investor in Iraq for 2009, with $37.7bn worth of project at the end of third quarter, mainly in the oil, gas and real-estate sectors. To put it into perspective, the UAE accounted for more than 24 per cent of all investments in Iraq last year.

With the country boasting the third-largest oil reserves after Saudi Arabia and Iran, corporate travel into Iraq is expected to increase more than 10-fold in the coming months, according to analysts.

Rotana's El Zyr echoed the statement, saying: "At our hotels in Iraq, guests will mainly be 97 per cent corporate business travellers and their average stay should between three to six days.

"However, our five-star properties will also be hosting long-term guests in Iraq on a one-month, three-month or six-month assignment. With the number of contractors, engineers, architects and so on, Iraq will re-bounce into the international business frontline much faster than any of us expect."

PKF's Gade believes that Baghdad and Kurdistan will see the maximum growth in the hospitality sectors. He said: "Baghdad and sites close to oil related and industrial development locations along with locations near ports and airports will enjoy a focus. Very recently, the Kurd areas, especially around Erbil, are also being discovered for tourism, as they are comparably safe.

"Last year, Land Rover announced an agreement to set up a sales and maintenance base there as well. This area will probably emerge as a leisure destination over time."



Flight connections

Earlier this month, German carrier Lufthansa announced the possibility to launch flights to Iraq by the end of the second quarter of this year. The new services will serve Iraq's capital Baghdad and the city of Erbil from Frankfurt and Munich.

Lufthansa aims to launch the new services in the summer of 2010, once it has obtained the necessary traffic rights. Further infrastructure requirements are also being examined.

The airline's head of corporate communications, Southeast Europe, Africa, Middle East and Pakistan, Christoph Meier, told this newspaper: "We haven't set an exact date for the launch of services, as we still have to obtain the traffic rights and finalise other travel needs."

Talking about the airline's move into Iraq, Meier said: "Companies such as Haliburton and other major corporations are investing heavily into Iraq and its infrastructure. We recognised these companies would have a requirement of travel needs and we announced our plans; it wasn't an overnight decision."

Baghdad and Erbil will be linked to Lufthansa's hubs at Frankfurt and Munich, with the exact flight times and fares to be announced at a later date.

Lufthansa operated flights to Baghdad from 1956, but ceased operations when the Gulf War erupted in 1990. Erbil is already served from Vienna by Austrian Airlines, which is part of the Lufthansa Group.

Lufthansa's announcement comes close on the heels of Bahrain's Gulf Air and budget carrier Bahrain Air, both of which commenced flights to Iraq last year. ? NIC's Dr Fahd added: "The fact that airlines are returning to Iraq and our own national carrier, Iraqi Airways, regaining lost ground, it is only a matter of time that this country will return to its former glory."

Some may call this wishful thinking on his part, but Dr Fahd believes these investments are just one of many building blocks needed in resurrecting a whole nation.

Gains in leisure tourism

While Iraq's economy rises through the ashes like the proverbial phoenix, its government and private enterprises are predicting the possibility of leisure tourism returning to the country in the near future.

Religious tourism is a big draw in the Kurdistan region of Iraq, which is home to some the most significant Shiite and Sunni shrines.

Rotana's President and CEO, Selim El Zyr, said: "There are thousands of pilgrims visiting Kerbala and Najaf each year. These cities are only 70km away from Baghdad. The numbers visiting Kerbala and the nearby holy Shiite city of Najaf each year has surged since 2004."

Hospitality analyst Sven Gade, Director and Head of Consulting at PKF Consulting House, however, takes a more consertive estimate. "Leisure tourism will probably not be very significant in the country until global security agencies and embassies give clearance to the market and attractions have been programmed and re-developed."
Keep up with the latest business news from the region with the Emirates Business 24|7 daily newsletter. To subscribe to the newsletter, please click here.
Follow Emirates 24|7 on Google News.