Marketing blitz and discounts boost occupancy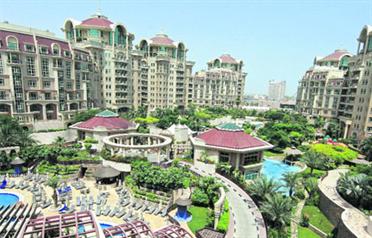 The aggressive marketing campaigns launched by Emirates airline and the hotels in Dubai have resulted in more visitor arrivals in the city, which has pushed occupancies higher in the first two weeks of February, said senior hotel executives.
Occupancy levels, which had dipped during December and early January, have seen an increase, they said.
Roxana Jaffer, Resident Director, Sovereign Hotels Holiday Inn, said: "The market reacted to the downturn of occupancy in December resulting from both the global economic situation and the subsequent local curbs on expenditure by offering a decrease in room rates. These offers were seized on by the GCC market and neighbouring countries and we experienced an upsurge from mid-January onwards."
Other hotel industry executives echoed these sentiments. Hussein Hachem, General Manager of the Al Murooj Rotana, said: "During the first two weeks of February, occupancy at Al Murooj Rotana Dubai was good and above January by 10 per cent due to the Dubai Shopping Festival [DSF] and the rate cuts, which we offered in certain segments in order to boost occupancy. This also helped us realise an increase in the revenue per available room [RevPAR]."
Wael Elbehi, Regional Sales Director, Coral Hotels & Resorts, agreed. "We have enjoyed high occupancy all through this season across all Coral Hotels & Resorts, which is remarkable considering the market scenario."
The beachfront properties, which have always been a favourite with Western and Russian tourists, have also seen an increase in occupancies during the first two weeks of this month. Oliver Louis, General Manager, One&Only Royal Mirage, said: "While January was indeed slightly softer, we have been overwhelmed by the turnaround in occupancy for February within all of Dubai's beach resorts. Our three properties within One&Only Royal Mirage are indeed on a sell out status over these two weeks."
One of the reasons for lower arrivals from the United Kingdom, a key market for Dubai, has been the strengthening of the US dollar against which the dirham is pegged. This made Dubai an expensive destination for the British travellers.
Louis said: "I believe that the combined actions of the major airlines and hoteliers to create added value to compensate for the dramatic currency shortfall from key markets such as the UK are the key contributing factors towards such unexpected occupancy levels."
"This week, half of our guests who are regular clients, commented on the accessibility and convenient flight time that makes Dubai such an attractive destination. March and April are also looking quite positive."
During the first two weeks of February, the DSF as well as corporate events have contributed to the increase in both corporate as well as leisure travellers.
Elbehi said: "I believe it is a combination of factors. DSF has definitely helped to push sales, particularly in the leisure sector. It is extremely well marketed around the world and we had great response from the GCC. Other events such as Arab Health and Gulf Food contributed significantly to the business."
As a further boost to hotel occupancies, Dubai's Department of Tourism and Commerce Marketing is planning to extend its hotel room-rate discounts beyond the DSF, which ended on February 15.  Under this promotion, hotels have offered discounts of up to 60 per cent till at least the end of March. Hotel industry sources said the focus is on promoting Dubai as a short-haul destination.
According to a recent report by Deloitte, the business advisory firm, Dubai registered one of highest average room rates and RevPAR.  The report said average room rates and RevPAR in Dubai were $300 (Dh1,102) and $237, respectively.
Hachem said: "As a normal reaction to the current situation, hotels in Dubai attempt to stabilise occupancy levels by slashing their room rates. This measure has helped hotels to boost their RevPAR performance slightly. However, we should not only focus on rate cuts to increase occupancy. It is crucial to hotels to stay innovative in their approach to the new business opportunities available in the local and regional markets and focus more on extra added values to guests."
Jaffer said room rates went down between 15 per cent and 30 per cent depending on the hotel – but instead of rooms remaining vacant, the properties experienced higher occupancy than the previous few weeks. 
Follow Emirates 24|7 on Google News.