Marking its territory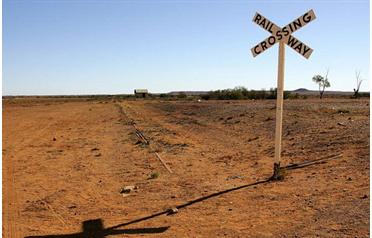 The red, rocky outcrops of the outback are as synonymous with Australia as the Sydney Harbour Bridge and the Opera House. Numerous movies, including Priscilla Queen of the Desert, Crocodile Dundee and, most recently, Australia, have embraced the natural beauty of this rugged heartland and used it as their centrepiece.

The Northern Territory is the most sparsely populated area of this vast country and is home to all manner of natural wonders and indigenous wildlife. The region's major city, Darwin, has been almost completely rebuilt twice, once after the Japanese bombing during the Second World War and again after the devastation of Cyclone Tracy in 1974, but Darwin is far from the sleepy town you might imagine.

Founded in 1869 and now home to around 120,000 people, Darwin is actually closer to Dilli, the capital of East Timor, than its own capital city, Canberra, and claims to be one of the most multi-cultural places in Australia, with at least 50 nationalities making their homes in the far north of the country.

There are a number of cultural institutions in Darwin that help you to understand the background and make-up of the Top End, as the northern most point of Australia is referred to. The Aboriginal Fine Arts Gallery houses important traditional and contemporary indigenous artworks, didgeridoos and carvings, while the Museum and Art Gallery of the Northern Territory has a permanent installation of Aboriginal art as well as a fascinating exhibition detailing the 1974 cyclone that almost destroyed the city.

Due to its year-round warm temperatures – usually in the low 30s – Darwin is very much an outdoors place. The centre of the city is best explored on foot, although it can also be circumnavigated by bike using the paths that wind around the Central Business District.

There is no shortage of beautiful, unspoiled, palm tree-lined beaches, with the crystal clear waters of the Timor Sea lapping on the shore. A favourite is Mindil Beach, only two kilometres from the city centre, and every Thursday from April until October you can wander around the Sunset Markets. You will find everything from local arts and crafts to foods that offer a taste of the South Pacific region. There is even the delightfully named Roadkill Café, whose tagline is 'You kill it, we grill it' – vegetarians need not check if there is a tofu option.

Just 80 kilometres north of Darwin – a 20-minute flight or two-hour ferry ride – are the magnificent Tiwi Islands. Made up of Melville and Bathurst Islands, these outcrops are home to the Tiwi people, one of the world's oldest living traditional cultures. Heavily influenced by Polynesia, the islands' Aboriginal culture is very different to the mainland and a trip there offers a unique opportunity to sample a completely different way of life.

Tourists are forbidden from turning up unannounced, so have to be part of an organised tour – who sort out all the relevant visas and travel arrangements – in order to gain access to the islands. There are overnight camping tours, which include hunting expeditions with the locals, and several fishing lodges to stay at.

Once there you will see how art plays a huge part in the islanders' lives, with everything from canvasses and traditional bark paintings to wood carvings and hand woven silks available to view and buy.

Known as 'the island of smiles', Tiwi offers a variety of landscapes, ranging from eucalyptus forests to rainforest, as well as some stunning wildlife, including saltwater crocodiles, sharks and the rare olive ridley turtle. Fishing and Aussie Rules Football are both hugely popular, with March's Tiwi Grand Finals well worth a visit.

Meanwhile, around 250 kilometres east of Darwin is the Kakadu National Park, which covers an astounding almost five million acres. Inhabited by Aborigines for more than 40,000 years, this vast World Heritage Area is home to thousands of varieties of plants and animals.

It is best to visit between June and August, and the park allows for both organised tours and self-planned packages. Inside you will find beautiful plantlife and stunning scenery, as well as numerous picturesque pools and billabongs. Tourists are allowed to swim in some of these pools, but always be aware of crocodile signs when taking a dip and of course avoid splashing around. Once you are there it will come as no surprise to find that Crocodile Dundee was filmed at East Alligator River in Kakadu.

As well as the crocodiles, there are kangaroos and wallabies, water buffalo and wild pigs, as well as more than 280 species of bird and endangered or rare animals. But the six main landforms that make up the park – and its subsequent variety of landscapes – are probably the biggest draw. There are monsoon forests, deep gorges, huge natural waterfalls, wetlands, rocky ridges, and tidal flats to explore.

There is also the Aboriginal rock art, which is said to be some of the finest ever discovered. Nourlangie, which has several impressive paintings, and Ubirr, which contains etchings of the animals that lived thousands of years ago, have proved to be among the most popular tourist sites in the park.

For a unique and remarkable view of an often unseen Australia, Darwin and its surrounds are the places to go.


Horses for courses 

If you want to tap into your inner Hugh Jackman, pictured, why not visit one of the region's enormous cattle stations. Conways Cattle Station stretches out over 340,000 acres and offers tourists the chance to see how a working station functions. Tours are conducted around the farm and station, with working horse and dog demonstrations helping to show how these hard working people earn a living. Much of its land is outback, so you can view the wildlife uninhibited, with 4x4's and helicopter trips. There are also Great Barramundi in the local creeks. The helicopter flight from Darwin allows you to soak up the scenery as you steel yourself for the droving (that's moving cattle). A guesthouse is available for an overnight stay.

Visit www.about-australia.com for details.


Essentials

GETTING THERE

- Emirates flies daily from Dubai to Darwin via Perth from Dh5,150. www.emirates.com. Once in Darwin, a shuttle bus runs from the airport into the city for just Dh23. A taxi costs around Dh60-Dh70.

WHERE TO STAY

- Situated just 15 minutes from the airport, the Crowne Plaza can be found in the heart of Darwin. Having recently undergone a Dh9.62 million facelift, the hotel boasts stylish rooms. Alternatively, Moonshadow Villas has five stunning, rainforest villas each with a private pool.

TOP OF THE CROCS

- Dust off your snakeskin, it's time to go a bit Crocodile Dundee. Adelaide River is 65km from Darwin. A riverboat takes you over the water as the reptiles slink about the murky water. Meat is dangled over the side and the crocs leap out of the water to wrench it away. It is an awesome, and terrifying, display of ferocity. Log on to www.outback-crocodile-adventures.com.
Follow Emirates 24|7 on Google News.