Nakheel Hotels receives gifts for QE2 museum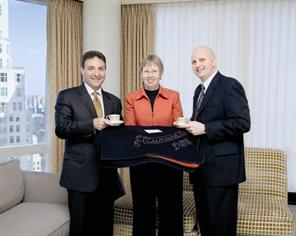 Nakheel Hotels – the owners of the world's best loved ocean liner QE2 – received the generous gift of a royal cup and saucer and steamer blanket from the liner's predecessor, Cunard's RMS Queen Elizabeth.

The gifts, which will form part of the heritage collection at the QE2 museum on Palm Jumeirah, were given to Nakheel Hotels' CEO Joe Sita at the Mandarin Oriental Hotel in New York last week by US technology entrepreneur and CEO of EntreLearn, Inc, John Patrick Moldt, and his sister Karen Moldt, a sales and marketing executive.

The Moldts' father, Edward M Moldt, was one of a group of Philadelphia businessmen who purchased the Queen Elizabeth from Cunard in 1968 before reselling the vessel to a Hong Kong investor in 1970.

The cup and saucer are part of the set of "Royalty" or "VIP" china which was made exclusively for the suites on board both Queen Mary and Queen Elizabeth.

The pattern was used for a relatively short time after both ships were launched. The originals were made by Plant of Staffordshire in Tuscan bone china – known for its hardwearing properties, which made it ideally suited to a life at sea.

The black wool steamer blanket, which bears the insignia 'Cunard Line D658' in gold lettering, would have been used by guests onboard as a wrap in inclement weather.

Joe Sita, CEO of Nakheel Hotels said: "The gift is a touching gesture from the Moldt family and I am honoured to be able to receive it on behalf of Nakheel Hotels."
Follow Emirates 24|7 on Google News.