Nepal looks beyond the Himalayas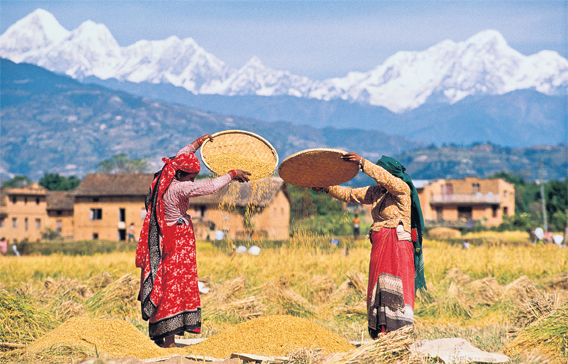 Nepal is one of the most diverse countries in the world, an amalgamation of bustling towns with peaceful and lush countryside coupled with national parks and, of course, the Himalayas.
FlyDubai recently made Kathmandu its 11th destination and if the flight Emirates Business took last week are anything to go by, it's already a popular route.
Seeing the countryside with homes sporadically built atop is in stark contrast to Kathmandu centre. The 15-minute drive to the Hyatt Regency hotel couldn't be more at odds with the views from the sky.
Drivers honk constantly, all jostling for position on the roads where lane discipline is absent. The pavements are also teaming with people going about their daily business, as fruit and vegetable sellers stand at every junction, groceries piled high on their bikes. In many ways it reminds me of India as city centre roads there are just as crowded. With a population around the 2.5 million mark, the Nepalese centre is bustling but it doesn't feel as crazy as India's major cities.
But while Kathmandu is an ideal place to start, it is by no means the end of what this mountainous country has to offer where the temperatures are as varied as the scenery; the cold mornings for which hats and scarves are a must give way to t-shirt weather by lunchtime.
The city centre is a maze of side streets so it's best to hire a guide or go equipped with a detailed guide book. Kathmandu Durbar Square should be high on the agenda. As a Unesco World Heritage site we expected to only be able to admire from behind a roped barrier but not so. The temples and palaces are in daily use and visitors are encouraged to wander around at their own free will but entry is restricted to Hindus.
There are numerous shops lining the side streets around Durbar Square selling traditional goods, including paintings, wood carved ornaments, Himalayan tea and traditional hats.
Painters sit in shop doorways creating intricate works based on the deities and astrology but for a greater insight head to the Thanka School where students are taught how to get the brush strokes just right.
Delve off the beaten track and courtyards appear through innocuous tunnels, each with a chaitya – or temple – and stupas.
In the suburb of Thamel make a dinner date at Rum Doodle. This backpackers' lodge is easily identifiable by the footprints that line the staircase and the restaurant. The food is a little strange and not what I expected from Nepal with fish and chips, pasta and steak dominating the menu rather than traditional cuisine but it's a fun place to eat and be sure to leave your mark on the wall before you leave and seek out the UAE contingent's footprint on one of the roof beams.
A five-minute walk from the back garden of the Hyatt Regency is the Bouddhanath Stupa – a giant temple and another Unesco World Heritage site – in the middle of a square surrounded by handicraft shops and cafes. Having only seen the crazy main streets of Kathmandu this is a real contrast and just goes to show what lies at the top of a side street.
Once the hustle and bustle of city life becomes too much take a trip to the countryside and visit Nagarkot. Located a 90-minute drive from Kathmandu, at an altitude of more than 2,200m, the village lies at the top of a steep hill accessed by a narrow, winding road. It's a long way but worth the views alone as the snow capped Himalayas come into view as you reach the pinnacle. Although we could not see Everest, we still managed to see a number of other peaks, including Ganesh Himal, Langtang and Gaurishankar.
After a visit to the obligatory souvenir shop – be warned it is more expensive than shops in Kathmandu – we retreated half way down the mountain for lunch at Nagarkot Cottage, Nepal's first eco tourism accommodation. The lodge opened in 1976 and remains a family-run business. It's a great place to taste traditional cuisine with the chicken curry and black dal particular specialities.
Many tourists choose to spend a couple of nights here as it is a good place from which to set out trekking to explore the local area where women still work the fields in the traditional way.
But for a panoramic view of the Himalayas, the only way to experience their true awe is by plane. There are more than a dozen flights in the morning from the Domestic Terminal, each taking about 45 minutes. Priced about $85 (Dh312), it is cheaper than trips of a similar nature in other countries. As the 16-seater aircraft takes flight, the air hostess points out the different mountains before passengers are invited into the cockpit for a clearer view.
Just a couple of days are not enough to explore Nepal. It is enough to have a taste but the national parks, wildlife and rafting will be on the agenda next time.
Essential info
How to get there
FlyDubai flies daily to Nepal from Dubai International Airport's Terminal Two. Prices start at Dh350 one way. Visit www.flydubai.com
WHERE TO STAY
Hyatt Regency Kathmandu is ideally situated just a 15-minute drive from the airport. Double rooms start at $215 plus taxes. For more information, visit https://kathmandu.regency.hyatt.com
Don't leave home without
- Camera
- Warm clothes
- Good shoes as you'll do lots of walking
- A strong stomach
- A head for heights
- A sense of adventure
Keep up with the latest business news from the region with the Emirates Business 24|7 daily newsletter. To subscribe to the newsletter, please click here.
Follow Emirates 24|7 on Google News.