Next stop: Paradise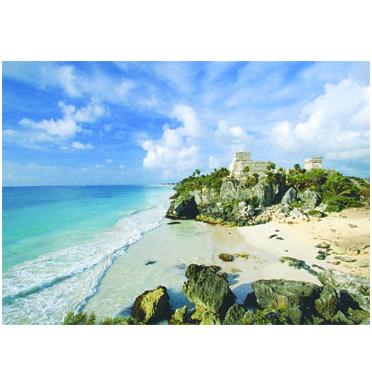 Endless summers, coconut trees, psychedelic coral and white sandy beaches – these are the places where the picture-postcard comes to life.  Destinations like those below are for anyone looking to indulge in all that the natural world has to offer.

Atiu (Cook Islands)
This particular Cook island has got all the tropical gear: deserted beaches, the bluest water, whiter-than-white sands. But it also has that little bit extra, with a clutch of famous, multi-chambered limestone caves tucked away in thick jungle on the coral coastal plains surrounding the island. Some of the caves were used for burials, which means there are human bones about, but relax: Aitu's vicious warrior history is long gone. Nowadays, Aitu is also a draw for ecotourists, with more flora and fauna than you can shake a pair of binoculars at.
Cape Tribulation (Australia)
This World Heritage-listed, biodiverse region in the state of Queensland deserves to be on your radar for so many reasons. Gorgeous beaches and an ancient rainforest that extends right to the water, fringing reefs, wild and beautiful animal and plant life, rock pools, mangrove boardwalks and a backdrop of breathtakingly rugged mountains are the main ingredients. Then there's the Great Barrier Reef, just 40 minutes offshore. Now you understand – it's a totally unique part of the world.
Cape Verde
This archipelago of 10 volcanic islands off the Senegal coast has long been a byword for "mystery". A strange amalgam of West African rhythms and Portuguese colonialism, Cape Verde is now succumbing to tourism, with the government planning to aggressively market all that sun-kissed splendour. But tread carefully: with its unspoiled coastlines and uninhabited beaches, the archipelago may sound inviting, but it also shields a fragile ecosystem: you'll be sharing space with many animals unique to the Cape.  
Fernando de Noronha (Brazil)
This sparsely populated archipelago off Brazil's northeastern coast is famous as a diving destination, with dolphins, shipwrecks and psychedelic coral all available for underwater viewing. Not only that, but the islands play host to the Western Atlantic's largest colony of tropical seabirds, a fact that is sure to raise the pulse of twitchers everywhere. There are not that many facilities here, but the trade-off is that you have the islands pretty much as they have been for the past 500 years, with only some ex-Portuguese ruins providing clues to past life.
Gili Islands (Indonesia)
These three beloved islands, northwest of Lombok, have all the essentials: coral reefs, stunning beaches, pristine water, superb fishing and snorkelling opportunities, and friendly locals. According to lore, there is also a magic ring around the island that makes it impossible to leave. Go on – test it out. If you can defeat that, then the tuna steaks, plentiful local beverages and the complete lack of cars and motor vehicles of any kind might accomplish what magic failed to.
Kuna Yala (Panama)
Look up "tropical paradise": there will probably be a picture of the Kuna Yala archipelago alongside. These small islands (also known as the San Blas Islands) are part of the semiautonomous territory of the Kuna people and feature palm trees, gorgeous beaches, thatched huts and timeless charm. Big business has not gained a foothold because the Kuna rule the roost, with a series of laws laid down to preserve the natural environment. That means no ugly hotels spoiling the view and no package tourism, but plenty of uninhabited islands to explore.
Lalomanu (Samoa)
Mmmmmm, thank God for the South Pacific and more sea, sand and sun than any person can cram into a lifetime. This time it is Samoa's turn, with Lalomanu beach on Upolu turning out to be the perfect spot for first-class swimming and snorkelling. If you want to stay, sleeping in open beach fales can impart the sense that you are doing it in some kind of authentic, tropical-island style. A kind of paradisiacal virtual reality for jaded Westerners, then? If you like; locals will argue the toss. Lalomanu is what it is, and the sunsets have to be seen to be believed.
Rangiroa (French Polynesia)
A coral atoll beyond compare, Rangiroa (the world's second-largest coral atoll) is about as languorous and remote as you would care to find. Most come here for diving, but there is nothing wrong with just lazing around on the beach and sipping a long drink. There is also a huge lagoon that is more like a massive inland sea, sure to add to your expanded consciousness and sense of perspective – even the name "Rangiroa" means "vast sky".
San Andrés and Providencia (Colombia)
If you like your tropical paradises "Caribbean" flavoured, then you should probably visit this little-known haven, with its swashbuckling English, Jamaican and pirate history. There is a big Rastafarian influence around these parts, and we are sure you do not need us to tell you the attendant treasures of such a culture. What we will tell you, though, is that beautiful beaches, coves, caves and swimming holes combine with native architecture and lots of reggae, rum and cocktails to provide sensual delights.
Tulum beach (Mexico)
Make no mistake, Tulum is one of the world's premier beaches, with seven kilometres of the finest powder sand, perfect blue water ripped straight out of your dreams, and the beach's famous, unpowered, cabana-style accommodation. Not only that, but backing onto Tulum is something amazing: the ruins of a sixth-century Mayan walled city ("tulum" is the Mayan word for "wall"), the most majestic backdrop of any beach in the world.
Reproduced with permission from Lonely Planet Bluelist: The Best in Travel 2008.  At $22.99 (Dh84) the book can be purchased at www.lonelyplanet.com/bluelist
Follow Emirates 24|7 on Google News.