Number of GCC tourists visiting Turkey rises 15%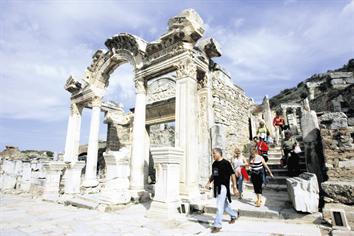 The number of GCC tourists visiting Turkey, which was up by 15 per cent in 2008, will continue to increase despite the current financial crisis.

More than 18.5 million tourists visited Turkey in the first eight months of 2008, an increase of 15 per cent over the same period in 2007. There was also a large increase in the number of GCC tourists in general, with a 55 per cent increase in the number from Kuwait, a 39 per cent increase from the UAE, 27 per cent from Bahrain, 24 per cent from Saudi Arabia and 13 per cent from Qatar.

These increases prompted the Director-General of the Sharjah Commerce and Tourism Development Authority, Mohamed A Al Noman, to meet Istanbul Mayor, Muammer Guler, on a recent visit to Turkey to discuss ways to boost tourism relations between Turkey and the GCC, particularly Sharjah, as the two share a deep heritage and culture relations.

Speaking of his visit, Al Noman said: "Sharjah and Turkey have much in common in terms of tourism, both being deeply rooted in their cultural heritage, which presents us with a fantastic opportunity to explore the many possible ways in which we could all benefit. We are proud to join hands with a fellow custodian of our cultural inheritance and it is our hope to see the growth that both of our tourism sectors have enjoyed over the past several years continue."

Mayor Guler said tourism ties between Turkey and GCC countries will continue to strengthen, despite the current world crisis, and welcomed Al Noman's efforts to ensure this.

"I am delighted to welcome Mohamed Al Noman to my beloved Turkey and look forward to working closely with the Sharjah Commerce and Tourism Development Authority to enhance the relationship between our two nations."
Follow Emirates 24|7 on Google News.