Reefs for Abu Dhabi, Dubai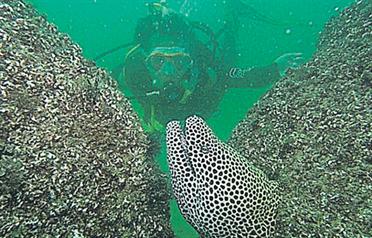 Following the success of an artificial reef project off the East Coast, the company behind the scheme is already planning to replicate the venture elsewhere off the UAE.

Al Boom Diving, with Le Méridien Al Aqah Beach Hotel and Resort, dropped 35 concrete balls into the sea a few hundred metres off shore last June. Since then, marine life has flourished as barnacles and soft coral have begun to form.

The company is now in talks to create similar reefs around the Emirates. "We've started talks to put a reef by the hotel off the Jebel Ali coast and we've had talks this week with people in Abu Dhabi due to the construction there," said Simon Tambling, Managing Partner, Al Boom Diving.

But while they believe it will attract divers to our shores and increase tourism to Fujairah, local dive enthusiasts are not so sure. "It's a good thing and any effort to put reefs like these into the sea should be applauded but it's wrong to sell it to divers," said one East Coast dive centre owner, who asked to remain anonymous.

"I wouldn't pay a lot of money to go dive in the reefs – there are better places to go. If it develops nicely in the future I might think about it as it will encourage marine life to come, but not at the moment." The owner reported that a similar project off Dibba Rock further up the coast was more advanced, while another between there and the resort was in its early stages. "They're putting 20 elements to make this one but they're not just scattering them on the bottom like the current ones, but are going to build it up to have different levels," he said.

Al Boom's current reef is made of additive-free concrete, the moulds for which come from the United States. Once sponsorship money is received – the project is run entirely on a voluntary basis – the moulds are given to the Lootah Group for the concrete to be poured in.

With the aim to drop in excess of 200 balls in all, Al Boom Diving has a long way to go but the project is gaining momentum. "The aquarium at The Dubai Mall is talking about sponsoring a couple of hundreds and if that happens it will really help us along," said Tambling.

The hotel, which runs several environmental initiatives, is equally enthusiastic about the project's future, hoping it will increase tourism and also provide a platform from which future projects can be built.

"People were sceptical, but Tuesday's dive showed that things are happening out there. It's a slow process but marine life always is," said Patrick Antaki, General Manager, Le Méridien Al Aqah.
Keep up with the latest business news from the region with the Emirates Business 24|7 daily newsletter. To subscribe to the newsletter, please click here.
Follow Emirates 24|7 on Google News.