Rezidor reports 5.2% revenue growth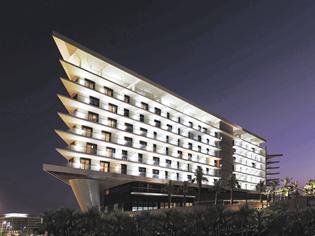 The Rezidor Hotel Group reported 5.2 per cent positive growth for its Middle East properties last year.

Projected system-wide revenues for the Middle East and North Africa (Mena) region in 2010 stand at $200 million (Dh734m), according to a senior company executive.

Revealing the figures to Emirates Business, the Brussels-based hotel group's Chief Development Officer, Puneet Chatwal, said Rezidor plans to take its current portfolio of 25 hotels in the Middle East to 40 properties in the next couple of years, with an investment of nearly $600m. Seven of these properties are due to open in the UAE.

While Rezidor has drawn up plans to open 100 hotels in the region by 2015, Chatwal said the economic downturn had resulted in cancelled projects, including the construction of a Park Inn property and a Regent Hotel in Dubai.

He said: "Despite last year's recession, the group compensated by having a record year for hotel openings in the Middle East. In 2009 alone, we opened eight hotels, taking the number from 17 to 25 properties or approximately 2,200 rooms.

"Because they will complete their full one-year in 2010, we hope to report positive growth for the region for 2009 and 2010. This will also more than compensate for the fall in RevPAR (revenue per available room)," he added.

The company, which is listed on Sweden's Stock Exchange, released its Q3 results for 2009 with a RevPAR decline of 25 per cent for the UAE, when compared to the same quarter in 2008. However, its revenue results for the first three quarters of 2009 were recorded at €10.1m (Dh53.84m) up from €9.6m for the same period in 2008, showing a 5.2 per cent positive growth.

Regional focus

"The Middle East is a very important region for us, with the UAE playing an important role in Rezidor's growth strategy. We consider the Middle East an emerging market as a lot of countries in this region haven't realised their full potential in the growth cycle," said Chatwal.

He added the group has already confirmed 40 hotels for the region, of which 25 have opened while 15 have been finalised. "If we talk numbers, then a decent-sized Radisson property should not cost more than €40m to €50m [to construct], while a Park Inn property costs between €25m and €30m.

"If we have 15 hotels or 5,000 rooms under development, we are talking $500m to $600m in investment, based on the pipeline today. Plus, a similar amount over the next two to three years."

Chatwal added the key tactic to grow in the Mena region was "through management contracts. However, revenue of the property is the revenue of the owner. Today, our projections for the Mena region for 2010 are at $200m," he said.

Brand expansion

The group, which runs five hotel brands, including the Radisson Blu, Missoni, Country Inn and Regent, has revealed its plans to develop the Park Inn brand aggressively across the region.

Rezidor opened the first Park Inn in the UAE last year on Abu Dhabi's Yas Island coinciding with the F1 Grand Prix Championship.

Chatwal said: "One good thing about the financial crisis is that developers are waking up to the fact that not everything has to be larger than life or that every structure has to be iconic. This should help us develop more of Park Inn, our mid-market brand in the region.

"We see Park Inn growing much faster in the next two years. But had you asked this question last year, it would have been a different scenario. We feel more bullish about Park Inn because the brand has now taken off in Abu Dhabi, Muscat in Oman and Al Khobar in Saudi Arabia."

Beyond its mid-market brand, Rezidor also has plans for its Regent brand which debuts in the UAE in 2011 or later in the year 2012 in the capital. "There was another Regent planned for Dubai but it was cancelled due to the financial crisis," Chatwal said.

He also said plans to develop the group's luxury brand, Missoni, since its opening in Kuwait, were also on the cards but it was too early for speculation. He added the group's Country Inn brand would not be introduced in the Middle East.

"Country Inn's concept would not work in this region – building countryside manors and fireplaces is not feasible here.

"We have been successful with Park Inn and will build critical mass with that. Once we have up to 50 hotels here, we will experiment with launching new brands in the region. Now is the time to consolidate," Chatwal said.

Market for growth

When asked for a set date for Rezidor's hotel openings in the UAE, Chatwal said the hospitality business comes with a "lot of uncertainty. Typically, when we report our pipeline, we say 15 per cent is delayed. This includes traditional and mature markets too."

"In the case of emerging markets such as the Mena region, it would be very naïve to say 25 per cent of all our developing projects get delayed by a minimum of six months, even in normal financial circumstances and sometimes, even by a couple of years."

He added markets that have proven resilient since the onset of the crisis were Saudi Arabia, Bahrain, Lebanon and Egypt.

"I believe markets will bounce back in one or two years on the new developments side and will take another two to three years for the RevPAR to climb to pre-crisis levels," he said.

Asked if the Rezidor Group was planning an initial public offering in Dubai in the future, Chatwal responded: "No, not right now. Neither here nor anywhere else, yet."
Keep up with the latest business news from the region with the Emirates Business 24|7 daily newsletter. To subscribe to the newsletter, please click here.
Follow Emirates 24|7 on Google News.