Rezidor's new Gulf projects may be delayed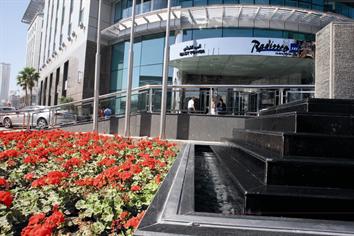 Rezidor Hotel Group's new hotel projects in the Middle East scheduled to open in 2010, are likely to be delayed amid the global financial slowdown, according to a senior company executive

"I am sure some of them will be delayed but some will also go ahead," Marko Hytonen, Area Vice-President, Rezidor Hotel Group told Emirates Business.

He added that the group's seven hotels scheduled to open in the region this year, however, are on track.

Rezidor has 32 hotels in the pipeline across the Middle East and Africa, representing about 8,000 rooms.

When asked whether any of the projects were cancelled because of the continued liquidity crunch, Hytonen said: "We are in the middle of discussing with our owners about the projects in the pipeline. We have not faced a situation when a project has been directly cancelled, however, we are expecting delays not with the seven hotels opening this year, but with some of the projects to open in the year 2010."

He added: "We now have to follow up on the other projects carefully in the Middle East."

Hytonen further said Rezidor had planned to launch a new brand – Regent – in the Middle East in 2010, which would now face a delay, as it is a part of the projects in the pipeline.

Rezidor is also looking at taking on the management of new unbranded hotels, according to Hytonen. "Our focus is now on conversions of non-branded hotels into one of our own brands," Hytonen said.

"This will be a tough year, but it will also be a busy year for us.

"We have one Park Inn opening in Muscat in March, and another one later in Al Khobar in Saudi Arabia," Hytonen added.

The Park Inn is the company's mid-market brand and is expected to perform well in the current market conditions, Hytonen said.

Four of the new hotel openings scheduled for 2009 are the Radisson brand.

Rezidor will also launch two Radisson hotels in Egypt – one each in Cairo and Alexandria.

Besides, it would open two more properties in Abu Dhabi – one each in Yas Island and near the Formula One racetrack.

At the end of the year, Rezidor will launch a new luxury lifestyle brand, Hotel Missoni.

"These are the ones we are focusing on," Hytonen added.

The group will be adding close to 1,600 rooms to the Middle East with seven hotels during this year alone.
Follow Emirates 24|7 on Google News.