Sheikh Mohammed's vision turns UAE's luxury hotels into iconic structures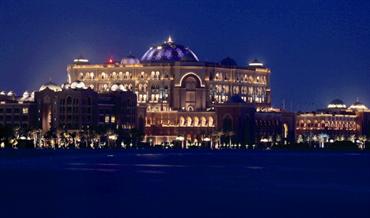 From establishing the Burj Al Arab to bringing designer brands such as Armani Hotels and Resorts and Palazzo Versace to Dubai, His Highness Sheikh Mohammed bin Rashid Al Maktoum, Vice-President and Prime Minister of the UAE and Ruler of Dubai, has displayed boundless ambition.

The world's tallest building will house the world's first Armani Hotel, designed by Giorgio Armani himself. In keeping with the designer theme, yet another brand from a designer's stable to form a part of Dubai's luxury portfolio would be The Palazzo Versace Resort when it opens its doors later this year.

Back home, Jumeirah Group, the international luxury hotel management group, has also grown by leaps and bounds having established a strong presence in some of the key global markets. A member of Dubai Holding, Jumeirah Group, under the leadership of Sheikh Mohammed has been on an aggressive expansion drive.

The group is planning to have 60 properties in its portfolio – either in operation or under development – by 2012.

And this is all despite the economic slowdown hitting the world hospitality industry.

Clearly, Sheikh Mohammed's vision is driving the growth of Dubai's hotels sector even in difficult times.

Today, Jumeirah Hotels and Resorts are regarded as among the most luxurious and innovative in the world and have won numerous international travel and tourism awards.

The company was founded in 1997 with the aim to become a hospitality industry leader through establishing a world-class portfolio of luxury hotels and resorts.

Building on this success, Jumeirah Group in 2004 became a member of Dubai Holding – a collection of leading Dubai-based businesses and projects – in line with a new phase of growth and development for the group.

There is no doubt that Dubai's Ruler has played a vital role in supervising Dubai's striking makeover in the past decade, having turned the emirate into a classic example of rapid and efficient development, visible in today's world renowned projects, including Atlantis, The Palm.

There is no limit to global companies and luxury hotel brands adorning the emirate today, offering an unmatched lifestyle.

Going forward, about 30 new luxury beachfront hotels would be unlocking their doors on the crescent of the Palm Jumeirah, of which at least seven hotels would open by 2011, developer Nakheel recently told Emirates Business. And a target such as this is possible only under the committed leadership of a visionary like Sheikh Mohammed.

The new hotel pipeline on the Palm Jumeirah includes the five-star Ottoman Palace by Rixos offering 410 luxury rooms, suites and villas; the Royal Amwaj Resort and Spa, which will introduce a flavour of the Indian Ocean to Dubai with its water villas, to be managed by Moevenpick Hotels and Resorts; Fairmont Hotel and Residences; Kempinski Hotel Emerald Palace; and Jumeirah Al Fattan Resort, to name a few.

Global brands

Covering 40,000 square metres, the prestigious Armani Hotel Dubai, located in the world's tallest tower, Burj Dubai, will feature 160 guestrooms and suites, a luxurious Armani Spa, a private members' club, two gourmet restaurants and a nightclub.

In addition, it will boast 144 exquisite Armani Residences all furnished in the designer's 'homes' brand, Armani Casa. The Armani-Emaar Hotels and Resorts deal was signed in 2004. Globally, the duo has about 10 to 15 Armani hotels planned over the next 10-odd years. Of these, four are under way – one each in Burj Dubai, Milan (to open in 2011), Marrakech (a resort under design) and Armani Residences in Egypt.

Palazzo Versace

The Palazzo Versace Dubai is more than 60 per cent complete and is due to open in late 2010 or early 2011, the resort's developers said recently.

"The Versace Group is 100 per cent committed to this project and we foresee it will be a huge success. Nothing equivalent has ever been built in Dubai to date," Versace President Santo Versace said on a recent visit to Dubai to inspect structural work on the $626 million (Dh2.3 billion) development.

The project, being built by Emirates Sunland Group under a joint venture agreement with the builder Arabtec (also responsible for the iconic Burj Al Arab), would be situated by the Dubai Creek and will house 217 hotel suites and 169 private residences furnished with Versace furniture.

Besides, it would feature a Vanitas restaurant, a health spa, a ballroom, convention facilities and a Versace boutique, and will have a private beach and marina.

That is not all. In the coming 12 months, 12,000 square metres of bespoke mosaic artwork depicting the famous Versace icons will be hand laid. The Versace mosaic designs include meanders, Medusas, cornucopias, vases and Greco-Roman decorative borders.

The result will be a unique and iconic building, showcasing beautiful mosaics and Italian craftsmanship that will provide an exciting new destination within Dubai.

Atlantis, The Palm

Atlantis, The Palm, the flagship resort on The Palm Jumeirah, became the first resort to open its doors on Dubai's first man-made island. Created by Kerzner International Holdings Limited, a leading international developer and operator of destination resorts, the stunning 1,539-room Atlantis resort opened its doors to guests in September 2008.

A joint venture between Kerzner International and Istithmar, the hotel resort is modelled after the Atlantis, Paradise Island resort in Nassau, Bahamas.

"We built something that's quite extraordinary. We've got to tell the world about it," said Sol Kerzner, the South African billionaire hotelier and tycoon. What took two years to build, Atlantis attracted an investment of £1bn (Dh5.8bn).

Packed with various attractions, Atlantis, The Palm boasts water Aquaventure theme park (160,000 sq mt), a conference centre, and 1,900 sq m of retail space, besides a Dolphin Bay (45,000 sq mt) in which guests can swim and interact with dolphins.

Homegrown brands

In its relatively short tenure on the Dubai coastline, the iconic ultra luxury Burj Al Arab hotel has attracted international attention and awe over the past few years, ensuring its place as one of the most photographed structures in the world. Designed to resemble a billowing sail, Burj Al Arab soars to a height of 321 metres, dominating the Dubai skyline.

This all-suite hotel, managed by Dubai's own Jumeirah Group, holds 28 double-storey floors, accommodating 202 bedroom suites.

Having been rated in the past as one of the most expensive hotels in the world, Burj Al Arab stands on an artificial island 280 metres out from Jumeirah beach, and is connected to the mainland by a private curving bridge. Clearly, the hotel proved to be an iconic structure, which was designed to symbolise Dubai's urban transformation.

The Burj Al Arab was built by South African construction contractor Murray and Roberts, and cost $650m to build, with its construction having begun in 1994.

Emirates Palace

It opened its doors in November 2005 and became one of the most celebrated hotels in the UAE. Located in Abu Dhabi, the magnificent Emirates Palace, built for $3bn, is owned by the Abu Dhabi Government.

It is currently being managed by the Kempinski Group. It is targeted at corporate and leisure travellers. Sheikh Mohammed played an instrumental role in establishing this iconic hotel, spread over 850,000 sq m.

As a recent New York Times report said – "the Emirates Palace is reputed to be the most expensive hotel ever built".

The exterior of the hotel has 114 domes that are 60 metres high. And the hotel houses 394 rooms and suites, ranging from 55 sq m to 680 sq m – with many of the suites furnished in gold and marble.
Keep up with the latest business news from the region with the Emirates Business 24|7 daily newsletter. To subscribe to the newsletter, please click here
Follow Emirates 24|7 on Google News.