Top 10 destinations for 2009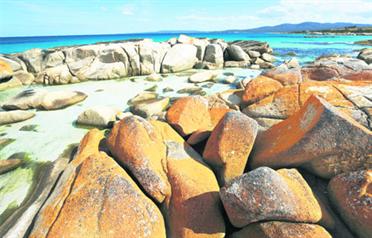 From the unspoilt beaches of Tasmania, to the northernmost town on earth, this year's must visit destinations, as suggested by Lonely Planet's Best in Travel 2009, are wild and adventurous.
And this annual "Blue List" casts a wide net.

Those looking for cool climes could go north to Svalbard, Norway and watch polar bears roam. For walking fans, the Basque country could be just the ticket.

The less energetic will enjoy lounging on the white sun-drenched beaches of Hawaii's less popular island or watching glorious sunsets -in Yunnan China.

Tom Hall, Lonely Planet's travel editor, says this year's places reflect both the global economic situation and people's growing environmental awareness. He says. "The destinations offer something for everyone, whether it's value for money, an exotic far flung destination or those with an enthusiasm for nature and the unexplored. We've chosen places that are either up and coming or are hot at this moment."

And he adds that whatever the state of the economy people still love to travel. "We have found that holidays are a right rather than a privilege for many."

- Lonely Planet's Best in Travel 2009 costs Dh135 and can be bought at www.lonelyplanet.com 
1 BAY OF FIRES
Tasmania:
White beaches of hourglass-fine sand, Bombay Sapphire sea, an azure sky – and nobody. This is the secret edge of Tasmania, laid out like a pirate's treasure map of perfect beach after sheltered cove, all fringed with forest. It's not long since the Bay of Fires came to international attention, and the crowds are bound to flock. Now is the time to visit.
2 BASQUE COUNTRY

France & Spain:

Walkers fall head over heels for the Pyrenean vistas where vultures soar on the thermals; art fans trip out on the futuristic fantasy of Bilbao's Guggenheim Museum; and everyone loses control at all-night street parties a million people strong. The Basque country is a cocktail of fun, sun, culture and beauty.

3 CHILOE

Chile:

With a newly inaugurated ecological reserve and the country's oldest agro-tourism network, Chiloé has adventure on tap.

This misty archipelago is the distilled, 80-proof version of traditional Chile. Witches and ghost ships go bump in the night, but modernity is on the march – the Museo de Arte Moderno is a worthy heir to Chiloé's churches.

4 KO TAO

Thailand:

First there was Ko Samui, then Ko Pha-Ngan; now, the cult of Ko Tao has emerged along Thailand's Gulf Coast. Diving enthusiasts cavort with sharks in a playground of tangled neon coral. Hikers can explore the coastal jungles. And when you're Robinson Crusoed out, hit the nightlife.

5 LANGUEDOC

France:

This Cinderella of the south was once overshadowed by the gorgeous Provence and the brash Côte d'Azur. Not any more. Now, she stands as their equal, displaying a discreet charm. Bas-Languedoc has beaches and quiet towns: Sète and Nîmes – perfect for romance. Haut-Languedoc, split by deep gorges and topped by wild upland plateaux, is for fun.

6 NAM HA

Laos:

The mountains, waterfalls and lofty plateaux, coupled with the culture of some 30 ethnic groups, create the ideal landscape for eco-trekking. Die-hard adventurers can tackle leeches and thigh-destroying slopes on a true jungle trek; budding anthropologists can people-watch by ambling through ethnic villages.

7 THE BIG ISLAND 

Hawaii:

The Big Island often gets dismissed because it's less polished and less glam. But it has all the necessary tropical delights and it's less crowded and expensive. You can stargaze from Mauna Kea, ride horses over grassy terrain, and trip across lava wastes until you're face to face with glowing magma – and bake to a crisp on white-sand beaches.

8 SAN ANDRES & PROVIDENCIA

Colombia:

The two main islands of Colombia's Caribbean archipelago have a yin and yang quality. San Andres offers wetbikes, submarine rides and Segway tours; Providencia is content with dreamy seascapes and genuine island hospitality.

9 SVALBARD

Norway:

Svalbard is Europe's most northerly land mass and the planet's northern most permanently inhabited spot. Explore craggy peaks, dark fjords, glaciers and snow, while watching polar bears roam. But be warned it is Europe's most expensive destination.

10 YUNNAN

China:

Yunnan is China's It destination. Look forward to spirit-recharging sunsets along the famed Tiger Leaping Gorge trek; sunrises atop the Yuanyang rice terraces; back-alley meanders in the time-warp towns of Lijiang and Dali; and an ice-cold drink in Xishuangbanna after a jungle trek.
Follow Emirates 24|7 on Google News.