UAE to woo Germans at ITB travel show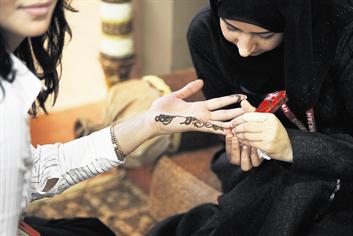 Encouraged by the growth in the number of German tourists to the UAE and giving a further thrust to tourism in the Middle East, both Dubai and Sharjah will be showcasing their new tourism products at the world's largest travel exhibition, the ITB Berlin, to be held in March 11-15, according to senior government executives.

The Dubai Department of Tourism and Commerce Marketing (DTCM) is utilising Dubai's participation in the world's largest travel trade fair for the 20th successive year to strongly promote the emirate in the global travel trade, especially among the Germans who have been showing unfaltering interest in Dubai as a year-round business and leisure destination.

The DTCM Director, Overseas Promotions, Saleh Mohammed Al Geziry, said: "The ITB remains a priority show for us to aggressively promote and market Dubai in overseas markets. It will provide us with an ideal platform to showcase our best in order to keep up the strong global interest in Dubai. We are confident that all our co-partners will benefit immensely from the ITB in one of the most economically-challenging times facing the global tourism industry."

Sharjah Commerce Tourism Development Authority's Chairman Sheikh Sultan bin Ahmed Al Qassimi said: "This participation (at ITB Berlin) forms a part of our strategy for international exhibitions and our campaign to promote Sharjah's new tourism products to international markets. ITB is considered one of the major global platforms for the exchange of tourism and culture-related ideas and information, which is why we believe it is important to attend this event."

"International exhibitions form an important platform for Sharjah to promote the our tourism advantages, including family tourism, which is one of the main products we highlight at exhibitions, as it incorporates historical, civilised, cultural dimensions, giving us the advantage of having a unique selling point that will allow our voice to be heard, and enable us to stand out from the crowd in the tourism market," he said.

Al Qassimi said Sharjah's participation in ITB in previous years has had a marked effect on the emirate's tourism sector, increasing the number of German tourists visiting Sharjah to 73,000 last year, up six per cent from 68,000 in 2007.

"This is a testament to the importance of SCTDA's participation in international exhibitions, and illustrates perfectly the advantages and benefits," he said.

According to DTCM, German guests at Dubai hotels totalled 255,657 in 2007, while the first half of 2008 recorded 138,125 German visitors at hotels in Dubai.

During 2007-2008, as many as 276 German tour operators featured Dubai in their holiday packages, recording an increase of 34 per cent over 2006-2007 period. Also, there was a 16 per cent increase in German passengers passing through Dubai International airport in 2007, which stood at 1.33 million, according to DTCM.

This year's Sharjah delegation to ITB will be headed by Sheikh Sultan and will comprise 19 public and private companies besides the SCTDA, Al Qasba Development Authority, Sharjah Museums Authority, Sharjah International Airport Authority, Air Arabia, Sharjah Airport Travel Agency, and hotels, SCTDA said.

It added that Sharjah's stand at the travel fair will showcase the emirate's new brand and corporate identity, launched last year.

The Dubai stand, meanwhile, will have more than 90 participants, including hotels, tour operators, Dubai Shopping Festival, Dubai Summer Surprises, Dubai Naturalisation and Residency Department, Arabian Travel Market and the hospitality divisions of Emaar and Nakheel, according to DTCM.

ITB Berlin is a business-to-business platform and the world's largest exhibition for tour operators, booking systems, carriers, hotels and other tourism related service providers.
Follow Emirates 24|7 on Google News.